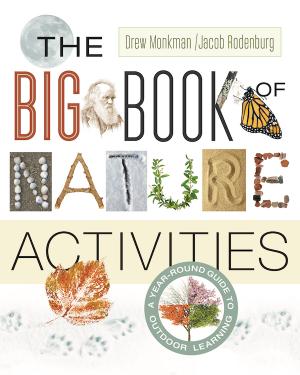 The Big Book of Nature Activities
Jacob Rodenburg and Drew Monkman. New Society Publishers, 2016 384 pages, $38.95
"Take one child. Place outdoors in nearby green spaces. Leave for several hours at a time. Repeat daily. Sprinkle in a dash of adventure. Fold in a generous portion of exploration and discovery. Top with wonder and awe. Let rise…" So reads the introduction to The Big Book of Nature Activities written by long-time environmental activists Drew Monkman and Jacob Rodenburg. This comprehensive and inspiring new resource is essential reading for anyone wishing to connect with, explore and enjoy their natural world. While it is written as a text to help children connect to the outdoors, the book is also bound to reawaken the sense of wonder and awe adult readers may have felt when first exploring the world outside. Indeed, the authors skillfully remind us of the simple pleasures found in making mud pies, catching tadpoles at a nearby wetland, climbing trees or just staring up at the starry night sky.
As an elementary teacher, The Big Book of Nature Activities is the text I have been waiting for. Organized around the changing seasons and the six main geographical regions of North America, their flora, fauna, sky and weather, the book is loaded with descriptions of key natural events. It has just enough background science to make you want to get out there and up close to the fascinating world of your own backyard. The book cites the growing body of research pointing to the mental and physical health benefits of getting our students outside and, at the same time, warns of the risks to our health and the health of our planet when we lose touch with our natural environment. The basic skills needed for connecting to nature are then carefully laid out. There are dozens of activities linking the exploration of nature to the arts, language and the sheer joy of playing outside. The book highlights the wonder of evolution with a wide range of stories and activities and suggests multiple citizen science projects that both kids and adults can get involved in.
Both authors have extensive experience working with children and adults both in classroom and outdoor settings. This experience is evident in the breadth and scope of what they have so generously shared with us. If you are an educator, a parent or a person with the simple desire to rekindle a sense of wonder and awe for the world around you, The Big Book of Nature Activities will first inspire and then guide you to do just that.
Stephanie Benn is a member of the Kawartha Pine Ridge Teacher Local.