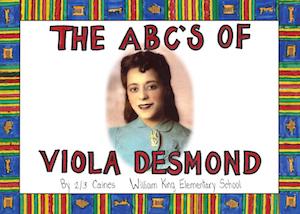 The ABC's of Viola Desmond
Grade 4 students at William King Elementary School and teachers Pam Caines and Beatrice MacDonald. Delmore "Buddy" Daye Learning Institute, 2016. 54 pages, $23.95
"A is for African Canadian." The events of the fateful night when Viola Desmond was refused access to the "whites-only" section of the Roseland Theatre in New Glasgow, Nova Scotia, unravel page by page in this thoughtful and powerful book.
In The ABC's of Viola Desmond, readers are presented with the history of one of Canada's esteemed civil rights activists in an alphabetical format. Written for an audience of grade three students, words such as "discrimination," "inspiration," and "segregation," underscore the role Viola Desmond played in the fight for equality of all people, regardless of race. This book, written by Grade 4 Nova Scotian students for the 2016 African Nova Scotian History Challenges, speaks not only of Viola's courage and strength when faced with racism, but also of the struggles of all Black Canadians of the time, the key people who aided her in her fight and details of her story overlooked in traditional historical texts.
Exposure to diverse literature is imperative for students belonging to all communities. History textbooks alone do not adequately expose students to the histories of Canada. Discrimination based on skin colour, ethnic origin and religious affiliation happens every day with examples frequently broadcast in mainstream media. Acknowledging the past and present struggles of people who have been marginalized will lead to a better understanding and appreciation of our history and our present day.
This book can be used effectively as a mentor text to increase students' cultural awareness and historical knowledge. While it has direct links to the Grade 3 social studies curriculum, it could also be used as a text to support understanding in Grade 6 social studies and Grade 7 and 8 history as students learn about the different communities that make up Canada and the privileges or lack thereof experienced by different groups.
Lauri Taparluie is a member of Greater Essex County Teacher Local.
Order your copy through the Delmore Buddy Day Learning Institute at dbdli.ca.