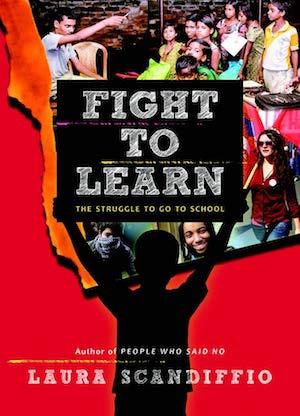 Fight to Learn: The Struggle to Go to School
Laura Scandiffio. Toronto Annick Press, 2016. 176 pages, $16.95
Is it ever too early to learn about the lack of equity in the world? As a kindergarten teacher, I reflect on this question every day. In class, we talk about the fact that in some places on this Earth people will try to restrict a fundamental right you are guaranteed under the United Nations Convention on the Rights of the Child – that is, the right to go to school. In Fight to Learn, Laura Scandiffio has written a beautiful book outlining the struggle of children and educators in many parts of the world to protect this right. With vivid photography and a clear, accessible writing style, she divides the text into sections based on the powerful obstacles (poverty, discrimination, and violence) children around the world are overcoming to win the right most of our own students take for granted. It is perfectly pitched at readers from grades 5 to 8.
For each obstacle to education, Scandiffio gives us more than one account (often from the perspective of the teacher) to describe the situation. She includes useful background information and current statistics. As readers, we travel with her through impoverished areas of India, witness the harsh realities faced by Roma communities of western Europe, confront gender exclusion for girls in the Middle East, see the struggle of teaching the "untouchables" in the caste system of India, meet former child soldiers in Uganda and those facing gang violence and brutality in Chicago.
The final chapter describes protest movements and we come home to Canada. For most of us, the story of a 13-year-old Cree girl who demanded the Canadian government deliver justice to her school in Attawapiskat is a familiar one. This, of course, is the story of Shannen Koostachin. After her untimely death, a foundation in her name (Shannen's Dream) went on to win improvements, but the struggle is not over for Canada's Indigenous people.
Scandiffio includes an afterword that cites UNESCO statistics estimating 59 million children of primary school age are currently not in school. While various initiatives are underway to break down the obstacles discussed, she writes, "Much remains to be done before the UN's vision of education for all becomes a reality." By the last page, I know that it is never too early to sound the alarm and take action.
Francesco Alfano is a member of the Hamilton-Wentworth Teacher Local.