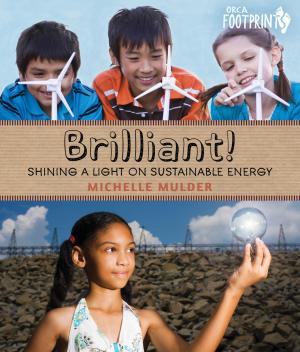 Brilliant! Shining a Light on Sustainable Energy
Michelle Mulder. Orca Book Publishers, 2013. 48 pages, $19.95
Did you know that the bicycle is the most energy efficient vehicle ever invented? Or that there is a plane that flies on solar power? Kids use soccer balls to generate power for a battery and people in Iceland use volcanoes to grow bananas! Michelle Mulder flicked this reader's switch back into wonder with all the amazing things happening both now and in the past around the globe.
In Brilliant! Shining a Light on Sustainable Energy, Michelle Mulder engages her reader with a question in every single subsection, and every time, she took me to a new time and place uncovering the hidden secrets of energy around the world. We began in the Dominican Republic, travelled to Persia, India, Peru, Sweden and North America. And the list goes on. In China, she describes the use of biodigesters, taking learning about biofuels to a whole new level of engagement. I can only imagine the classroom conversations that can stem from here.
Brilliant! takes not only a tour around the world, but a journey through time. The author takes readers from ancient civilizations, the Middle Ages and the Industrial Revolution to current day uses and exploration of sustainable energy. The cross-curricular possibilities are endless. Looking at energy through the lens of ancient civilizations engages the learner to think outside the box of societal composition and roles of gender and culture, the sections typically studied in a unit. Instead, Michelle Mulder asks students to think critically about how people used energy at that time and thrived. It challenges the reader to stop and wonder, "What can I do differently?"
Diversity is a common thread within this resource. Diversity in content, people, ideas and thinking. This book is accessible to all students and, more importantly, everyone can find themselves represented in some way. The diversity of ideas and uses being presented will open the eyes of any reader and challenge them to think differently about every single resource they use and the endless possibilities of what may come. Enjoy the journey!
Sabrina Sawyer is a member of Grand Erie Teacher Local.