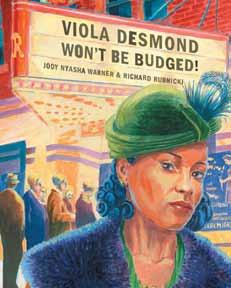 Viola Desmond Won't Be Budged
Jody Nyasha Warner, illustrated by Richard Rudnicki Groundwook Books, 2016 32 Pages, 18.95.
Viola Desmond Won't Be Budged tells the story of an important woman in Canadian history. Viola Desmond was a black business owner in Nova Scotia in 1946. That alone is remarkable but what happened to her when she went to a movie one afternoon is astounding. Told to move from her chosen seat down near the screen to the upstairs balcony where the black patrons were "allowed" to sit, she refused. She was dragged out of the theatre and thrown in jail. Fined 20 dollars – a hefty sum 70 years ago – Viola attempted to appeal the ruling but the appeal was denied. Her decision to speak out against racism inspired others to protest discrimination. A decade after Viola wouldn't be budged, segregation became illegal in Canada.
Viola Desmond Won't Be Budged is geared to primary students but relevant to all grades. It's a powerful story, vividly brought to life with illustrations based on actual photographs.
This book works beautifully as a lead-in to discussions of historical and current social justice and bullying. It's easily integrated into rich lessons across the curriculum.
Math: What do you notice/wonder? Where's the math in this storybook/historical event? Social Studies/History: Explore roots of African Canadian culture through study of the Underground Railroad, food and spirituals. Science: What's the difference between the paper money used then and the polymer note that will feature Viola Desmond? Visual Arts: Design your own $10 bill with a Canadian hero on it. Physical Education: Play recess games from Viola's era. Health: What strategies did Viola use to respond to being bullied? What resources are available to you when you need help? Music: What are spirituals? Listen to some and discuss. Dance: Create a dance for the protestors. What music will you use?
Viola Desmond is a Canadian hero. The $10 bill with Viola Desmond's picture on it will be circulated beginning in 2018. This book will tell your students her story.
Tracy Markman is a member of the Simcoe County Teacher Local.