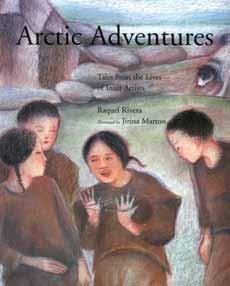 Arctic Adventures: Tales From the Lives of Inuit Artists
Raquel Rivera, illustrated by Jirina Marton House of Anansi Press, 2007 47 pages, $18.95.
Arctic Adventures: Tales from the Lives of Inuit Artists is a compilation of stories about the early lives of four prominent Inuit artists. The stories were adapted from interviews with the artists. Each tale is followed by a brief biography of the artist and a sample of their artwork. The book is beautifully illustrated offering a glimpse into the rich and remote culture of the Arctic and its inhabitants.
The stories provide a window into the lives of Inuit people in the 20th century. Travel is by dog team, clothing is sewn by hand from animal skins, and the food supply depends on the skills of hunters in the community. The spiritual world and the natural world are inexorably linked. As befits the setting, the environment plays an important role in all stories; life depends on it.
Though the text is deceptively simple (Inuktitut words are used at times, but there is a comprehensive glossary), the stories address complex ideas. When the caribou do not follow their traditional route and her husband dies, Jessie Oonark and her young child face starvation. Kenojuak and her siblings encounter the mercurial goddess of the sea on a duck hunting trip. A young boy is stranded alone on an ice floe when the spring ice breaks up.
This book would have many purposes at a range of levels, but would be most useful at the junior level. Among other topics, the stories demonstrate the close relationship between humans and the environment (grade four social studies and science); interactions and perspectives when different groups of people connect (grades five and six social studies); and continuity and change (grade seven). The book is also a great introduction to the uniquely Canadian genre of Inuit art in its various forms.
Teri Thayer is a member of the Limestone Teacher Local.