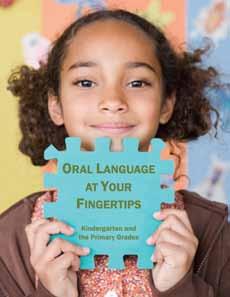 Oral Language at Your Fingertips
Ontario Speech-Language Pathologists and Audiologists, 2016 (To order visit osla.on.ca) 141 pages, $40.00.
Oral Language at Your Fingertips is a must-read guide for all teachers working with students facing oral language difficulties. The Ontario Association of Speech-Language Pathologists and Audiologists (OSLA) writing team has put together an evidence-based guide that systematically explains the components of oral language, such as phonological awareness, vocabulary, word and sentence structure, text structure, oral language comprehension and inferencing, with easy-to-follow chapters. This guide pertains to all students, including ELL and MID students who require authentic oral interactions to develop their oral language skills.
Many students arrive in classrooms with oral language needs. This practical resource offers guidance for classroom application by sharing intentional and effective oral language strategies and essential learning opportunities for all students. It answers many questions and reaffirms that oral language is the "foundation for school success."
The introduction answers the question, "What is oral language?" and defines many common terms used by speech and language pathologists. This guide analogizes the hand as the premise of the "Oral Language at Your Fingertips" framework. The palm of the hand represents authentic interactions and the fingers represent the components of oral language. The use of icons when using this guide makes it easier for an educator to locate important information quickly, especially when faced with a question. The five icons represent: Key Information, Research to Practice, Differentiated Instruction, Ideas to Try and Links to Resources.
In my experience, the Early Primary class is no longer a quiet place where students sit in a row and listen to the educator. Nonetheless, it can be an oral language rich learning environment in which both student and educator interact continually with each other. This resource offers specific scripts that encourage intentional interaction between the student and educator – a reciprocal relationship. This resource has helped me reflect on my own interactions with students.
This guide reaffirms that "authentic oral interactions are central to academic development and well-being." I highly recommend this book to all educators working with all students.
Julie Ann Tobien is a member of the Halton Teacher Local.