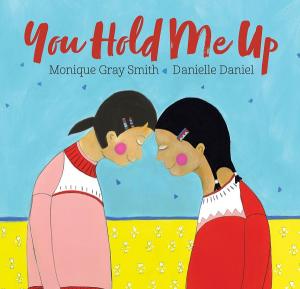 Monique Gray Smith, illustrated by Danielle Daniel. Orca Book Publishers, 2017. 32 pages, $19.95.
You Hold Me Up is a picture book filled with uniquely stylized illustrations coupled with a message of peace and reconciliation. It is a suitable read-aloud text in the early childhood classroom (Kindergarten – Grade 2). However, the beauty of its message and illustrations can certainly be appreciated at any age.
Drawing on their own Indigenous and Métis heritages, respectively, the author and the illustrator provide an authentic and positive image of Canada's Indigenous people. The book's brightly coloured illustrations portray families, friends and community members in scenarios to which readers of all ages can relate. The book's message speaks of actions each one of us needs to feel loved, safe and secure.
Curriculum connections are easily made throughout the book. Use it as a read aloud to spark conversations about building a respectful and caring community. The simple text pattern is a suitable anchor text for our earliest writers. Refer to the illustrations to initiate inquiry around family, cultural traditions or music. A multi-generational family is shown across from the words, "We hold each other up." These pages can be used as a basis for discussion about family structures and functions. Educators teaching older grades can focus on inference and critical thinking skills. In this case, students might be asked to consider how the illustrator's use of hearts to represent characters' mouths affects the reader's understanding of the text's message.
An "Author's Note" at the back of the book provides a brief overview of Canada's history and relationship with the Indigenous peoples of the land. This section of the book highlights the abuse suffered by Indigenous children within the Canadian residential school system as well as the need for reconciliation. You Hold Me Up is a gentle but effective way to introduce the topic of reconciliation to students of all ages.
This beautiful picture book is best described by its author who wrote, "At its heart, it is a book about love, building relationships and fostering empathy."
Jessica Cooper is a member of the Peel ElementaryTeachers' Local.