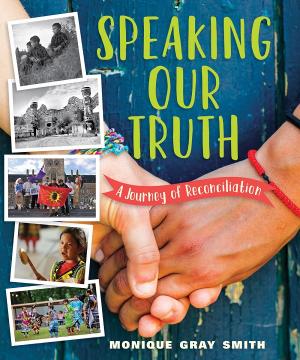 Speaking Our Truth: A Journey of Reconciliation
Monique Gray Smith. Orca Book Publishers, 2017. 159 Pages $29.95.
Speaking Our Truth: A Journey of Reconciliation is a great starter resource for an educator wanting to learn about Canada's history of residential schools. The book is a combination of stories, pictures and facts from author Monique Gray Smith's journey in learning about the history of her family members and how their experiences affected multiple generations.
Gray Smith writes that the unwritten rules of the residential school system were: "Don't talk. Don't trust. Don't feel. Don't love." Her book encourages youth to do exactly the opposite. It encourages young Canadians to talk about history and question the facts, while listening to different stories and perspectives. Throughout, she includes reflection bubbles that invite readers to imagine how events would impact young children and then to love and respect all Canadians. She includes questions that encourage students to empathize with children who attended residential schools such as "How do you think it would feel to be referred to by a number instead of a name?" These provide prompts for discussions in social studies, making sure that students take time to reflect on how the government's decisions impacted individual children and our society as a whole.
The book would be a valuable resource for educators looking for ways to increase their own understanding of reconciliation while offering valuable prompts to guide junior and intermediate students in understanding this period in Canadian history. It offers facts and statistics about residential schools in combination with stories that provide perspective and urges readers to continue their journeys after they read the book. It closes with many suggestions of ways youth can get involved in reconciliation and act with kindness. There are numerous links to organizations where readers can learn more about our history and how to participate in reconciliation.
Jennifer Yantzi is a member of the Avon Maitland Teacher Local.