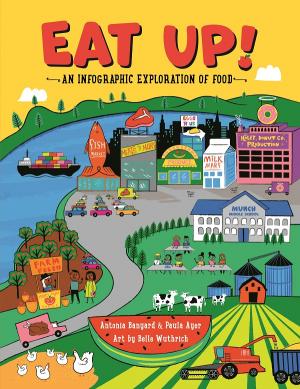 Eat Up! An Infographic Exploration of Food
Antonia Banyard and Paula Ayer, illustrated by Belle Wuthrich Annick. Press Ltd, 2017. 72 pages, $14.95.
Eat Up! An Infographic Exploration of Food offers a buffet of information presented in bite-sized and easy to digest portions. Starting with a short, self-administered quiz to determine food literacy, this book invites readers to reflect on their current understanding of our food and food systems before giving them the knowledge and tools to think critically about the history, production and cost of food.
The illustrations and layout help the reader process a lot of information without feeling overwhelmed, while the writing invites readers to arrive at their own conclusions based on a balanced presentation of known facts. The authors do not shy away from sensitive topics such as the inclusion of GMOs in the food supply, biodiversity, global warming, water availability, land use and organic vs. conventional farming. They describe the issues and give specific details, inviting readers to look at these complex issues from a broader perspective. While the book is not moralizing in tone, one can't help but reflect on their oftenunconscious food choices while reading. This book contains a glossary, suggestions for further reading and sources for the information it presents.
Students in junior grades and up could enjoy this book on their own, but used as a teaching tool, it could start meaningful discussions in almost any grade. With just a bit of planning, this book could support the teaching of many grades and curriculum areas including Science (Earth and Space Systems, Understanding Life Systems), social studies (People and Environments), Language (Media Literacy, Writing – Developing and Organizing Content, Reading – Graphic and Informational Text) and Health (Healthy Choices, Healthy Living).
Eat Up! is a book that can plant new ideas and understanding in the minds of readers, sprout meaningful discussions at school and at home, branch into many curricular areas and current events and provide a deeply-rooted foundation upon which future inquiry can be based. I highly recommend this book!
Shawn Crowell is a member of the Thames Valley Teacher Local.