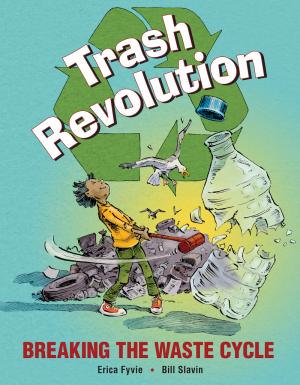 Trash Revolution: Breaking the Waste Cycle
Erica Fyvie, illustrated by Bill Slavic. Kids Can Press, 2018. 64 pages, $19.99.
Trash Revolution uses colourful and lively illustrations, diagrams, charts, infographics and sidebars to engage readers as they learn about all the "stuff" that surrounds us and how it is part of the waste cycle. Using the items students might carry in a backpack (water, food, clothing, paper, electronics) this book explores the many ways we can reduce, reuse and recycle waste.
The book begins with the reusable water bottle found in a backpack. We learn where the water bottle began, what happened along the way and where it ends. The next section focuses on food consumption and waste and why we should eat sustainably. We even learn about the water and carbon footprints of our lunches. The way we produce and consume our food can help protect and support the environment. We then learn how clothing is produced and the impact of "fast fashion" on our environment. On other pages, we follow the paper trail and find out what deforestation is doing to our world. We learn how plastic is made and the impact this has on our environment. As we read about electronics we are encouraged to resist upgrading if we don't need to. Throughout the book there are charts labeled "Supply & Demand." They show the reasons people want certain products, how they get them and waste solutions now and in the future. The many facts are likely to make readers think again about the impact their everyday decisions have on the environment.
Students in junior grades and up would enjoy this book on their own, as part of a lesson or as research for a project. It could be used to start discussions about our environment and how we can work to make a difference. This book supports the teaching of the Conservation of Energy and Resources science curriculum for Grade 5. It supports the Grade 6 Understanding Matter and Energy unit. It's a great book to use when teaching graphic and informational text as part of the literacy curriculum and it supports the People and Environment strand of the social studies curriculum.
I highly recommend this book as a way to engage students in learning about the immediate and long-term effects of energy and resource use on society and the environment.
Jane Ranson is a member of the Limestone Teacher Local.