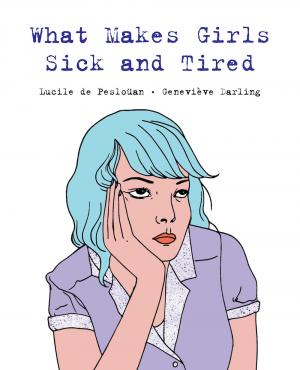 What Makes Girls Sick and Tired
By Lucile de Pesloüan, illustrated by Geneviève Darling. Second Story Press, 2019. 48 pages, $13.95.
Lucile de Pesloüan and Geneviève Darling have come up with a heart wrenching, honest fanzine, What Makes Girls Sick and Tired, packed with feminist power.
Everyone should read this book. The book covers almost all the reasons why girls and women are 'sick and tired' – from paying more for face creams to a constant litany on how women should look or how girls are expected to behave. Each page of the book moves the conversation forward and is sure to ignite discussion.
Darling's pop culture art – minimalist illustrations with purple, violet, white pictures with black outline – depicts women of varied body types, ages, ethnicities, sexualities and physical abilities. You can start reading this book from any page, as each page depicts a different issue. The book ends with a message of solidarity, urging us to support one another.
This book can serve as a good eye-opener to the inequality and misogyny that many women experience as part of everyday life. It explores inequity in wages, rape statistics, harassment, catcalling, body issues, sexism, double standards and media representation. Educators who want to use this book must be comfortable with the language of equity and the discussion of some difficult topics.
I recommend this book for grade five, six, seven and eight students. It is important that we allow books like these to make an impact and shape the thinking of young learners. The content of this book can be integrated with Health, the Arts, Media Literacy and Language. Teachers can design lessons on stereotypes, self-esteem, biases, healthy eating, portrayal of gender in media, persuasive writing, critical thinking, visual arts, dance and drama representing similar testimonies.
What Makes Girls Sick and Tired is about breaking stereotypes and questioning the prevalent views that affect girls and women.
Tanushree Krishnanand is a member of Durham Occasional Teachers' Local.