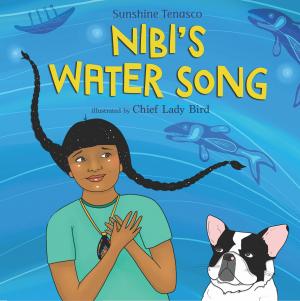 By Sunshine Tenasco, illustrated by Chief Lady Bird. North Winds Press – An Imprint of Scholastic Canada Ltd., 2019. 32 pages, $17.95.
Nibi's Water Song brings to life the reality that many Indigenous communities do not have access to the clean, safe water most of us take for granted. The story is told through the images and voice of a young Indigenous girl who has no clean water in her home or community. This is compared to the next town with "big, shiny houses" where a woman gives her a bottle of water to quench her thirst. After many attempts to get more water from other houses in the town, Nibi begins to sing and dance through the streets. She is joined by her friends along the way. The people in the shiny houses soon join in song as well. The story ends with Nibi finally having access to clean water that she shares among her friends.
The story is written by Sunshine Tenasco who is Anishinabe and illustrated by Chief Lady Bird, a Chippewa and Potawatomi artist. The main character, Nibi, is named after one of Tenasco's four children.
Nibi's Water Song would serve as an appropriate read-aloud story for students in Kindergarten through grade three. Its message is timely, sparking discussion on what we can do to protect our water sources. There are connections to Belonging and Contributing in the Kindergarten program, Understanding Life Systems in grades one and two. An information page that provides educators with points for discussion with their classes can be found at the end of the book.
I would recommend Nibi's Water Song as a way to incorporate Indigenous materials into your literacy or science programming. It is an important contribution to our understanding of social justice and its connection to our environment.
Heather Ma is a member of the Simcoe County Teacher Local.