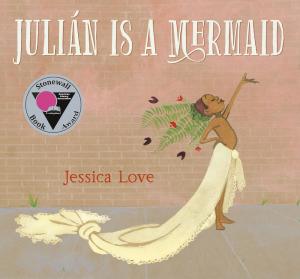 Written and illustrated by Jessica Love. Candlewick Press, 2018. 40 pages, $22.99.
Julián is a Mermaid tells the story of a young boy who would love nothing more than to be a mermaid. While riding the subway with his abuela he sees some women with long, flowing hair dressed in shimmering, mermaid gowns and all he can do is imagine transforming into a mermaid. At home, Julián does just that, using a fern and some flowers to create long, beautiful hair and a curtain tied around his waist as a mermaid tail. Julián fears his abuela will be angry when she sees what he has done, but instead she offers Julián a beaded necklace to complete his transformation. She then takes Julián by the hand and brings him out to join a parade where all the participants are dressed as mermaids, "Like you, mijo." 
Julián is a Mermaid is a beautiful story of love and acceptance. Julián's confidence is only temporarily shaken when his grandmother sees his transformation, but he holds his head high again when she shows him that he is loved no matter who he is, whether it be her grandson Julián or the mermaid he has become. 
Julián is a Mermaid is told primarily through the illustrations. While there is very little text, the rich, yet simple illustrations convey so much of the characters' inner thoughts and emotions. The reader can see Julián's pride when he becomes a mermaid and can see also see his doubts when his abuela first discovers what he's done. Love's ability to show these emotions in her illustrations means this story will not be lost on pre-readers who are relying solely on pictures to follow a story. The simplicity of the illustrations makes Julián and his transformation into a mermaid the primary focus without a lot of background noise to divert the reader's attention. 
Julián is a Mermaid shows children that self-love and acceptance are just as important as the love and acceptance of others and that we should never fear being who we really believe we are.
Jean Donahue is a member of the Toronto Catholic Designated Early Childhood Educator (DECE) Local.