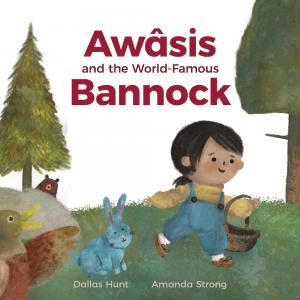 Awâsis and the World Famous Bannock
Dallas Hunt, illustrated by Amanda Strong. Highwater Press, 2018. 22 pages, $19.95.
Awâsis and the World Famous Bannock is a beautifully illustrated adventure story. The story centres around Awâsis, which means "child" in Cree. Kôhkum, grandmother, has baked her world-famous bannock and Awâsis is to deliver it to a relative. Unfortunately, the bannock is lost along the way and Awâsis must enlist the help of several woodland creatures in order to find the ingredients to make more. Sîsîp, Wâpos and Ôhô all help Awâsis find the flour, sugar, salt and more that are needed so Kôhkum can make more bannock.
Never fear! A recipe for Kôhkum's worldfamous bannock is included in the back of the book. It is excellent fresh out of the oven drizzled with honey. The bannock is baked, not fried as some are, so it is easy to make this at school with your class.
The back of the book also includes a very helpful pronunciation guide and glossary so you, and the children you read this book with, can learn the Cree words that are included. In the author's note for Awâsis and the World Famous Bannock, Dallas Hunt writes, "...this book is about having fun with Cree language revitalization, so all Cree speakers and learners should feel comfortable with this book, and with their language…" In addition, a video can be found on the publisher's webpage for this book (highwaterpress.com/product/ awasis-and-the-world-famous-bannock/) so you can hear a Cree speaker correctly pronounce each word.
There are many connections to the Ontario Language curriculum, as well as the Social Studies curriculum for grades 2, 5 and 6. It is an excellent read aloud for grades K-3, as well as a mentor text for children of any grade who are writing adventure stories. After returning home with bad news about losing the bannock, Awâsis is honest with Kôhkum about what happened and offers to help make more bannock, making this an excellent book for sharing character traits such as honesty, responsibility and respect.
Lisa Corbett is a member of the Near North Teacher Local.