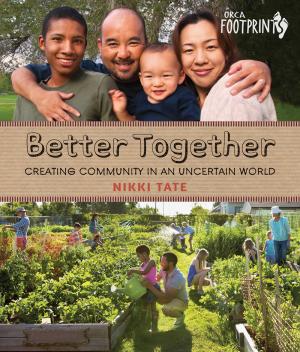 Better Together: Creating Community in an Uncertain World
Nikki Tate. Orca Book Publishers, 2018. 48 pages, $19.95.
"Everyone belongs somewhere." What a great message to send to our students. This book highlights how students can feel a sense of belonging in a big and sometimes difficult world. Better Together: Creating Community in an Uncertain World explores different types of communities that people create to meet their need for companionship. The book promotes the idea of people coming together to help each other around the world. Author Nikki Tate shares personal stories connecting to big and sometimes controversial ideas related to religion, racial, ethnic and LGBTQ identities, and global communities. Better Together looks at the many ways we are the same no matter where we live.
Tate begins with a statement about people's need to feel a sense of community. She describes the smallest groups people belong to (family), and moves on to global organizations that build on a common goal and lastly, to people working together as a powerful force to create social change. Even though tension and conflict arise in groups, the author shares how groups react and how people can still make a difference.
Throughout the book, the author shares inspiring stories from youth who are making a difference. Readers are encouraged to become peace activists and environmentalists.
This book would be a valuable resource for any school or classroom library interested in promoting diversity, equity and inclusion. The reading level is suggested for students in junior grades and up. The ideas in this book can spark discussions related to many expectations in the Social Studies curriculum. For example, Grade six students can use this resource for Canada's Interaction with Global Community unit. This book also promotes discussions related to identity and a sense of belonging which connect to the Health and Physical Education curriculum.
This book is current and filled with facts, photos and captions that would capture a young reader's imagination. The final message Tate shares is that kindness is powerful. "Looking after each other and the planet we live on is the best way to make sure our shared future is bright and prosperous," she concludes.
Theresa Lau is a member of the Simcoe County Teacher Local.