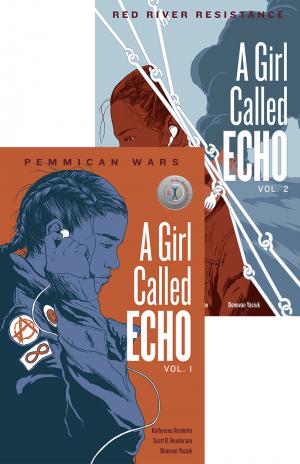 A Girl Called Echo Vol.1 and 2
Katherena Vermette, illustrated by Scott B. Henderson, by Donovan Yaciuk. HighWater Press, 2017. 15 pages, $18.95
Pemmican Wars is narrated by a middleschooler named Echo who shares her story of starting at a new school after being put in foster care due to her mother's illness. The young protagonist is inspired by a history lesson; Echo is so engrossed in seeking out more information about her own Métis identity and her people's history that she escapes present day life and becomes a participant in the historical events of the Pemmican Wars. As Echo becomes aware of the historical significance and ongoing impact of the events on her people, she gains a better understanding of her identity and culture, draws closer to her mother and engages more in school life. In Volume 2, Red River Resistance, Echo makes new friends and joins an Indigenous student leadership group. She spends much of the story back in time interacting with esteemed Métis leaders.
Pemmican Wars and Red River Resistance are both told from the perspective of their Métis author and are inclusive of the 2SLGBTQ+ community. The books include historical timelines; Volume 1 includes a recipe to make pemmican and Volume 2 The Métis List of Rights from May 9, 1870 and a Map of Red River settlement in 1870.
These richly illustrated and culturally layered graphic novels encourage young people to explore their own "sense of personal identity as a member of various communities" most particularly those of Indigenous ancestry from the Citizenship Education Framework. The graphic novel genre engages adolescents and improves literacy for reluctant readers, English Language Learners, ESL students and students with language and learning disabilities. The highly pleasurable artwork and limited text allows readers to more readily encode information.
Both volumes connect well with the grades 7 and 8 History curriculum, particularly Understanding History Context, Historical Importance, Historical Significance and Cause and Consequence Canada, Grade 7 1800–1850: Conflict and Challenges, and Grade 8 Creating Canada, 1850–1890. The significance of these two events can be connected to present day issues facing Métis people.
Using this book in the classroom is reconciliation – I give both graphic novels a resounding 5 stars!
Joan Hill-Keast is a member of Ottawa Carleton Occasional Teacher Local.