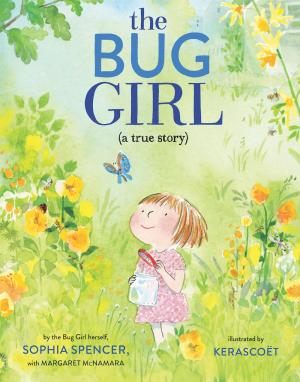 Sophia Spencer and Margaret McNamara, illustrated by Kerascoet. Penguin Random House, 2020. 36 pages, $21.99.
The Bug Girl, by Sophia Spencer and Margaret McNamara, is a biographical story about an Ontario girl who first became interested in bugs when she visited a butterfly conservatory with her mother. After that experience, Sophia talked about how she wanted to learn more about bugs. And she did, through watching videos, reading books, learning about entomologists ("bug scientists") and even beginning her own bug club at school. While her peers were initially accepting of her interest, by the time she entered Grade 1, she started to be bullied and decided to stop talking about bugs. To support her daughter, Sophia's mother decided to email a group of entomologists asking them to be Sophia's pen pals. The responses she received from her new scientist friends helped her feel accepted once again.
There are a few pages at the back of the book that list information about bugs in a conversational, child-friendly way. Besides detailed instructions on how to make a "bug house" to study bugs, information about entomologists, a few different types of bugs and the life cycle of a butterfly are also included.
This book lends itself nicely as a read-aloud in the primary grades. Science curriculum connections can be made easily for grades 1 and 2 under the life systems science strand. The book can even be used in kindergarten when teaching students about the natural world. 
Besides using this storybook as a tie-in to science, it can also be used to talk about bullying and to encourage students to pursue their interests, even if others around them don't understand or appreciate them. It could even be used to begin a unit about letter writing, research projects or story writing. The Bug Girl is a versatile book and the fact that it's co-written by a Grade 4 student makes it especially relatable for young children.
One caution: an incident in the book where some children take a grasshopper from Sophia and kill it could be upsetting to some younger, sensitive students, so previewing the book before reading is advisable. This book is a useful addition to a teacher's read-aloud collection.
Donna Bonnett Tanchez is a member of the Halton Occasional Teacher Local.