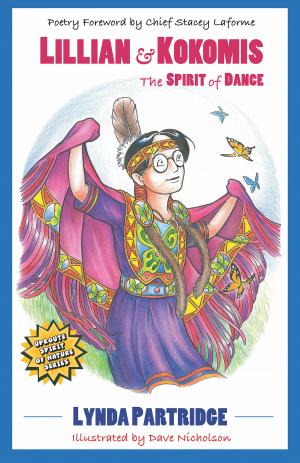 Lillian & Kokomis, The Spirit of the Dance
Lynda Partridge, illustrated by Dave Nicholson. Foreword Poems by Chief R. Stacey Laforme. UpRoute Books, Durvile Publications, 2019. 100 Pages, $17.95.
Lillian & Kokomis, The Spirit of the Dance begins with Lillian, a young girl of mixed Anishinaabe and white ancestry, being brought to another new foster home. Lillian is reluctant to get "too comfortable" in Mrs. Flagstone's house since she has been shuffled from home to home many times. Even at school, Lillian struggles to fit in; students call her names, make fun of her glasses and reject her for being of mixed heritage. Usually Lillian keeps her feelings of hurt, anger and frustration deep inside but not this time. One night, she is so overcome by rage, she breaks her glasses, destroys her bedroom and even cuts her hair. Afterwards, Lillian expects to be sent away, but to her surprise, Mrs. Flagstone is patient and understanding and offers hugs instead. 
In the following weeks, Mrs. Flagstone, who Lillian now calls Auntie, creates a safe and loving home, a place where they can have conversations about her ancestry. Lillian learns about the impact residential schools had on her mother and grandmother. Auntie considers herself lucky to have been taught traditional ways from her mother, so she brings Lillian to her First Nations community to meet her mother. Kokomis, meaning grandmother, helps Lillian heal by discovering her identity, learning her culture and finding peace through the spirit of dance. 
At the end of the book, "My Sketchy Scrapbook by Lillian" can inspire students to start their own scrapbook or journal that includes pictures, recipes, poems and stories that are meaningful and represent their identities. The scrapbook also includes an Indigenous languages section. Encourage students to share greetings in their language or even display dual language books. Learn more about Indigenous culture by attending a local pow wow or inviting a community partner or Elder to share their own stories either in person or over Zoom. Students can extend their understanding of intergenerational trauma and the child welfare system by researching the inequalities Indigenous communities experience to this day.
Lillian & Kokomis, The Spirit of the Dance reveals the importance of knowing who you are and where you come from. It reminds us to never give up and listen to our hearts. I encourage all educators, students (ages 9-12) and parents/guardians to read this story to understand our past and take action in the present.
Kareena Butler is a First Nations member of the Ottawa-Carleton Teacher Local.