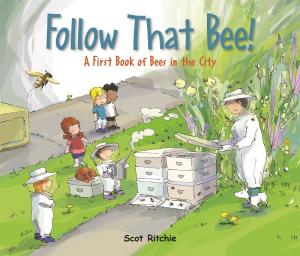 Follow That Bee! A First Book of Bees in the City
By Scot Ritchie. Kids Can Press, 2019. 32 pages, $16.99.
Follow That Bee! is an engaging book that will entertain young readers and inform them about honeybees. Five young friends visit Mr.Cardinal, a local beekeeper. During their visit, they learn many things about honeybees. Text features, like bolded print, highlight factual information, alongside the fictional storyline.The large, almost full-page illustrations, invite the reader to feel they are part of the story and learning alongside the characters. Children will enjoy looking at the vibrant details on each page. The book also includes an index of "Words to Know" that is useful for learning new vocabulary related to bees.
The book explores the crucial role bees play in nature, for example as pollinators, and some of the challenges bees face as growing cities replace natural habitats. The book offers young readers positive ways to support bees such as planting native flowers and supporting local markets.
This book would make a great addition to a K-2 classroom or school library. The book connects to one of the fundamental concepts, Sustainability and Stewardship, in the Science curriculum. This book can be used in primary classrooms to serve as a starting point for discussions on the role that honeybees play in nature and the interactions between humans and nature. This book can be one resource to support meeting the overall expectation of "assessing the role of humans in maintaining a healthy environment" in the Grade 1 unit, Needs and Characteristics of Living Things. An overall expectation in Grade 2 in the "Growth and Changes in Animals" unit is for students to "assess ways in which animals have an impact on society and the environment, and ways in which humans have an impact upon animals and the places where they live." Follow-up activities suggested in the book include making a bee bath and planting a pollinator garden.
Honeybees star in this story and learning about their behaviours will hopefully spark young readers' curiosity and passion for the environment and the ways in which we are all interconnected.
Sabeen Abbas is a member of the Peel Occasional Teacher Local.