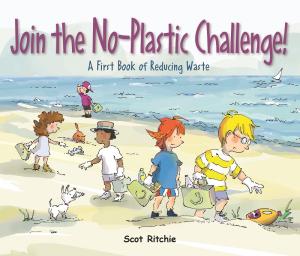 Join The No-Plastic Challenge! A First Book Of Reducing Waste
By Scot Ritchie. Kids Can Press, 2019. 32 pages, $16.99.
Join the No-Plastic Challenge! A First Book of Reducing Waste is a children's picture book that introduces students to plastic pollution. The story takes place on Nick's birthday when he and his mom and five friends get ready to take the ferry to the island for a picnic. Nick has given his friends the challenge of going all day without using single-use plastics. Right from the beginning, students can see how easy it is to make this change. Nick's friends bring their own water bottles and reusable bags. They get on the ferry and Yulee exclaims, "Look at the garbage!" Swirling around them are patches of floating plastic and garbage. Under the water are turtles, fish and seals looking up at the floating plastic. The children then realize that there are no recycling boxes at the snack bar. The cups come with plastic lids and straws, but the children have their own water bottles. They continue to talk about microplastics and the harm they cause to our environment and, as one friend starts to feel terrible about what's happening, Nick shares a positive message about what people all over the world are doing to avoid using plastic. The children continue to the island where they celebrate Nick's birthday and participate in a beach clean-up before they head home after spending the day not using any plastic.
Along with the informative text, Join the No-Plastic Challenge is full of colourful illustrations. You are drawn to every illustration and the detail within each showing what the children are seeing, what they are learning and what they are doing to make a difference in their community.
Although part of the title is "A First Book of Reducing Waste" I highly recommend this easy-to-read, informative and beautifully illustrated book for all students from Kindergarten to Grade 8 to introduce them to the problem of single-use plastics. Students who read this book will feel empowered by the many ideas about what they can do to make a difference in their communities and the world.
This book has great curriculum connections to the science and social studies curriculum. It's all about environmental awareness and our responsibility as citizens when our environment is changing so quickly.
Jane Ranson is a member of the Limestone Teacher Local.