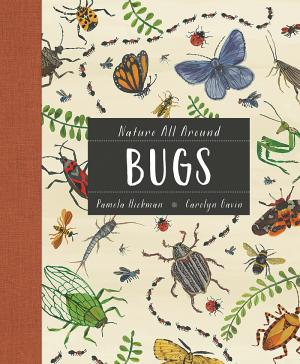 By Pamela Hickman, illustrated by Carolyn Gavin. Kids Can Press, 2019. 32 pages, $18.99.
Nature All Around: Bugs is a beautiful book filled with rich illustrations that will entice any young reader to pick it up, budding entomologist or not. Page after page of softly coloured insects (or imposters) greet the reader and draw them in. The text hits the right balance of talking to the child using specific and accurate language while still being conversational and accessible. This book would be most appropriate for students in grades 3-6 for independent reading, though I could see younger children enjoying it for the illustrations alone or as a read-aloud.
This book is part of the Nature All Around Us series by Kids Can Press. It is an update of two previous publications, The Kids Canadian Bug Book and Starting With Nature: Bug Book. It includes a table of contents as well as a glossary and index. The information is divided into small sections highlighting life cycles, habitats, insects in different seasons and endangered bugs and is filled with interesting facts (did you know that a cecropia moth is bigger than your hand?). Children will also find direction on how to be a bug watcher and how to differentiate between insects often mistaken for each other, like bees and wasps. The final section gives instructions to build an insect feeder.
Nature All Around: Bugs could be used to support the Science Curriculum, Understanding Life Systems, specifically in grades 1, 2, 4 and 6. The content ties nicely into many of the big ideas listed in the Ontario Curriculum document. For example, in first grade "living things have basic needs that are met from the environment," or in sixth grade "biodiversity includes diversity of individuals, species and ecosystems." This book would make an excellent anchor text for explicit teaching, but is also appropriate to assign as a research text with older students. Curriculum aside, the illustrations and content are so appealing that I would not hesitate to include this book in any classroom library as an independent reading option. I have no doubt that it would spend very little time on the shelf!
Vicki Harding is a member of the Ottawa Carleton Teacher Local.