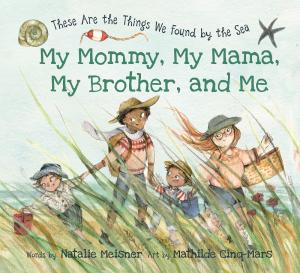 My Mommy, My Mama, My Brother, and Me
Natalie Meisner, illustrated by Mathilde Cinq-Mars. Nimbus Publishing, 2019. 29 pages, $22.95.
My Mommy, My Mama, My Brother, and Me is a beautifully illustrated picture book that encapsulates life in a small Nova Scotia coastal town. Drawing on her own life experiences, Natalie Meisner invites the reader on a typical family outing around their small world. Mathilde Cinq-Mars illustrates the natural beauty of Canada's East Coast in whimsical watercolours that capture the imagination. One can almost smell and feel the salty breeze.
Meisner's use of repetitive and rhyming phrases engages the youngest of audiences and sparks inquiry, curiosity and a sense of adventure in young and old alike. The author weaves several themes throughout this seaside adventure including natural vs. man-made, nature's balance and gratitude for both nature and others. Impressively, this author presents a very inclusive world where race, gender, family structure and community are simply part of everyday life. Even her language (fisherfolk instead of fishermen) is a subtle example of inclusiveness. By not blatantly identifying this family as same-sex or interracial the creators of this book invite the audience to simply enjoy learning about a typically east coast community through the eyes of a little boy who just happens to have a brother, a mommy and a mama.
As we join this family, we learn about aquatic life, the weather, local industry and cuisine, the interconnected ecosystem of life on the coast and the importance of community. Each page offers opportunity for inquiry-based lessons in Science or Social Studies. Comparing important members of their community with our own and learning about marine life and weather are just a few examples of curriculum examples this book allows.
Adults and children alike will be drawn in to learn about nature, community, living in a typically Canadian small east coast fishing town and acceptance as they follow this charming family on an adventure around their quaint little town.
Sheri Gaetz is a member of the Greater Essex Teacher Local.