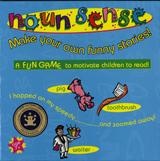 NounSense: Board Game and Activity Guide
Susan McArthur, Oakville, ON: The Children's Corner Incorporated, 2006, 2010. $29.95 for board game (additional costs for resource materials)
NounSense is a game that motivates children to read. Making up stories that are grammatically correct but don't have to make literary sense is appealing to children, especially when they aren't compelled to crack a book open or pick up a pencil.
The game offers fun ways to introduce very young children to simple reading strategies. Emergent readers in the early grades can use it to match initial and ending consonants or to identify syllables. More advanced students might use it to put words into alphabetical order and identify compound words. This resource also provides a way to practise sentence composition, word order, and proper word endings, in an interactive and humorous way.
Peeling off nouns and sticking them onto reusable story cards is a brilliant concept. It makes the possibilities endless for teaching literacy concepts and widens the appeal for a greater variety of ages and skill levels.
The game includes 72 nouns that can be affixed to 10 story cards. I sometimes wanted to use the same word twice in one story, but the words are not duplicated. You can invent your own way to deal with this, but having doubles would be a welcome addition to the game. An actual game board may be used, or the pieces can be used just as effectively without it.
One of the many strengths of the game is that it can be used in numerous and varied ways. There are activity guides and CDs, which can be purchased separately at nounsense.net. I found the activity guide (ages 7+) to be practical, well laid out, and easy to photocopy – well worth $19.95.
Debra Menary is a retired member of the Simcoe County Teacher Local.