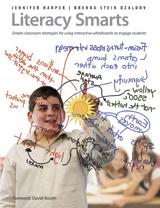 Literacy SMARTS: Simple Classroom Strategies for Using Interactive Whiteboards to Engage Students
Jennifer Harper and Brenda Stein Dzaldov. Markham, ON: Pembroke Publishers, 2011. 128 pages, $24.95
Literacy Smarts encourages teachers to be open-minded about the amazing possibilities of the digital world. It is a great resource both for educators new to the world of interactive whiteboards (IWB) and for those with some experience.
The book begins with a discussion about how the world of literacy is changing. There are new forms of communication, text, and media that our students interact with daily. Understanding that digital technology can enhance the learning of foundational literacy skills will make us better teachers and better prepare our students for the future. Literacy Smarts advocates for student-centred learning that includes student choice, focused assessment, differentiated curriculum, collaborative work, and higher-level thinking.
The book begins with basic instruction on the features available on an IWB, which is presented clearly with visual examples from classrooms. The authors then discuss and provide many examples of how an IWB can support the best practices teachers are using every day in their classroom with respect to collaborating, communicating, creating, and assessment. There is also information about how an IWB can be used to support students and parents with linguistic differences and ways in which it can help reach all students in a classroom.
As a teacher who has had an IWB in my classroom, I have found this book very helpful and would recommend it as a useful and idea-packed resource.
Janet Cottreau is a member of the Ottawa-Carleton Teacher Local.