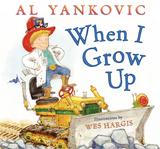 Al Yankovic Illustrated by Wes Hargis. New York: HarperCollins Publishers, 2011. 32 pages , $19.99
During Show and Tell at school, a young boy named Billy shares with his teacher and classmates what he wants to do when he grows up. He has some very unusual career ideas, such as gorilla masseuse and pickle inspector. In the end, he decides on a career he'd like to pursue. His inspiration behind his varied career ideas is his grandfather, who has explored many jobs during his lifetime.
The lesson to be learned: life is an opportunity to explore all that is out there, to be adventurous, and to know we have unlimited potential. You don't have to decide at the age five, 12, 19, or 30 what you want to do when you grow up. It's okay to change your mind. We can be anything and there is no age limit for trying new things.
When I Grow Up is a great read-aloud for Primary students, while Intermediate and Secondary students will find it humorous.
I would recommend using this book with the Community Helpers unit in grade 1. Students can research a profession and write a paragraph about the one they choose. Struggling readers and writers can write short sentences. In my grade 2 classroom, we had stimulating discussions about pursuing our dreams and not giving up. The illustrations kept the students engaged during the read-aloud. At the
Secondary level, When I Grow Up might add pizzazz to learning about career options in a business studies classroom.
Other read-alouds that have similar messages are When I Grow Up, I Will Win the Nobel Peace Prize written by Isabel Pin or What Do You Want to Be, Brian?
by Jeanne Willis. Using a Venn diagram, have the students record comparisons
between the books.
Shweta Gupta is a member of the Peel Teacher Local.