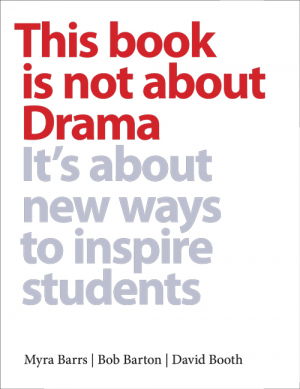 This Book Is Not About Drama. It Is About New Ways to Inspire Students
Myra Barrs, Bob Barton, and David Booth. Markham, ON: Pembroke Publishers, 2012160 pages, $24.95
True to the title, this professional resource is not a theoretical dramatic arts book. It is a book that talks about how to foster creativity, communication, collaboration, teaching strategies and skills, reflection and evaluation, and above all engage students.
This resource takes teachers from playing drama games to building strategies and skills co-operatively to explore, create and understand texts using the conventions of drama. The book provides a few examples of assessment and evaluation practices in connection with the Ontario Curriculum, with a focus on process and feedback rather than the production of drama. It would have been helpful to have more concrete examples of the cited evaluation techniques and explanations of how to use electronic portfolios with students.
Each section in a chapter focuses on a text source as the inspiration for exploring the topic. The sources for the activities are flexible and the authors provide an extensive list of alternate texts. Many of the sources are included in the resource itself. The steps for the lessons are easy to follow and include side-coaching tips for the teacher. Once the forms and conventions that are outlined become familiar for teachers and students, they can use them to explore and create using with sources of their own choosing. The end matter contains an excellent glossary of drama conventions that every teacher should have in their possession.
This resource will be useful for grades 3 and up, but most appropriately for upper elementary and Intermediate grades. The text sources that are in the resource require a high level of reading ability and would need differentiation on the part of the teacher in order to meet the needs of all students.
If you are a Junior or Intermediate teacher who wants to move beyond only using games and are looking for ways to engage students in literacy using drama, I would highly recommend this book.
Michelle Fenn is a member of Kawartha Pine Ridge Teacher Local.