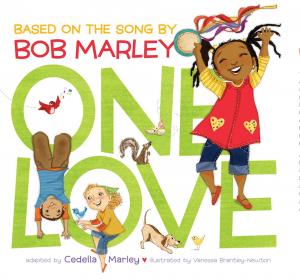 One Love: Based on the Song by Bob Marley
Adapted by Cedella Marleyand Illustrated by Vanessa Brantley-Newton. San Francisco: Chronicle Books, 2011, 32 pages, $18.99
One Love is a beautiful picture book set to the lyrics of one of Bob Marley's most famous songs. Adapted by his oldest daughter, this book depicts a young girl who becomes an active citizen and enlists her community to effect change in their neighbourhood. Through the joyful lyrics and the positive message of a story told through Vanessa Brantley-Newton's colourful illustrations, readers are taken on a learning journey about how belief in the power of many along with teamwork can make a difference in the world.
This book would be a wonderful text to use in relation to Character Education, as it could be used to support the concepts of Respect, Responsibility, Co-operation, Teamwork, Kindness and Caring, Empathy, Integrity, Perseverance. Other concepts that are also exemplified in the book are Stewardship and Active Citizenship. Links can be made to Media Literacy, as well, as students could compare the actual text with the original song and full lyrics and the Playing for Change video of "One Love" being sung around the world. Students could be inspired by the positive messages conveyed in this book and then engaged in conversation, learning, and creation of action plans related to making positive change in their own communities.
One Love is a rich mentor text that could be used in a variety of ways with any grade level. It truly brings to life the music of Bob Marley and his message of holding one love in our hearts to a new generation.
Click here to view the online book trailer.
Christina Stone is a member of Elementary Teachers of Toronto.