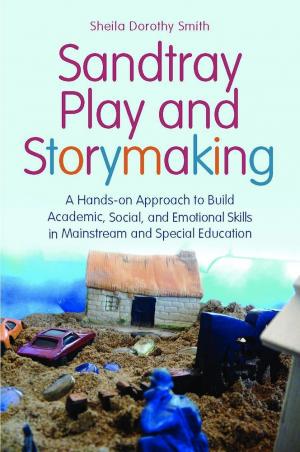 Sandtray Play and Storymaking: A Hands-On Approach to Build Academic, Social, and Emotional Skills in Mainstream and Special Education
Sheila Dorothy Smith, Vancouver: UBC Press, 2012. 176 pages, $27.95
When someone mentions playing with sand at school, a kindergarten class might come to mind. In Sandtray Play and Storymaking the sand play is not limited to early Primary kids. Rather, Smith introduces a concept of using small toys and figures in a sandtray to create a story. The child who has made this world then has a time for "reciprocal sharing," where he explains his story to a peer, and the peer actively listens to the story. In a lesson with oral language development focus, this can be the finishing point. However, the lesson can be extended to a writing period, where students write and confer about the story created in the sandtray. This book is well suited to teachers of kids who need some extra support, perhaps for learning disabilities or for behavioural issues.
There are some parallels in concept to oral language/writing skill programs such as "Picture Word Induction Model" (PWIM).  While this book is informative and brings forth an interesting way to work with kids, it does read a bit like a PhD thesis, heavy on citations and formal in its pacing. I would have liked there to be more stories about individual kids, giving some of their background and the ways in which sandtray play benefited them. As well, the photographs, used throughout the book to show sandtray scenes, are not of very good quality, and do not engage the reader. What I did like, however, is the idea that students need some time to work and think on their own first, without talking with peers or interruptions from the teacher trying to interpret the sandtray world. Sometimes kids need time to think things out and process their own ideas, and such time is both a luxury and a necessity.
Karen Brunner-Gilmore is on leave from the Renfrew Teacher Local.