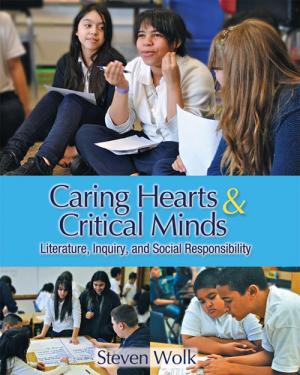 Caring Hearts & Critical Minds: Literature, Inquiry, and Social Responsibility
By Steven Wolk, Stenhouse Publishers, 2013. 252 pages, $31.95
Caring Hearts & Critical Minds is an excellent resource that encourages teachers to think about the way we teach reading to our older students within the context of social responsibility. This inspiring book motivates middle school teachers to use reading as a vehicle to promote critical literacy, social responsibility and thought-provoking discussions within our classrooms. This book is a valuable resource for any teacher working with adolescents.
The first part delves into what we read with our students.  It stresses the importance of reading for pleasure in our classrooms and teaching students to critically analyze what they read.  As the author writes, books take us places we can't go and offer us an opportunity to experience them: the Amazon in Peru; the Hogwarts School of Witchcraft and Wizardry; a hundred years into the future; inside the lives of Jewish families during the Holocaust.  The book includes some great ideas for organizing the Junior/Intermediate classroom to foster a love for reading.  "Good books are filled with lightning bolts – ideas and stories that cause readers to look at the world with amazement and pay attention to what is happening all around them," Wolk writes.
Throughout the book we are introduced to inspiring novels that could be used in the classroom.  Alongside these suggestions and strategies are sample inquiry-based units that could be used to explore the big ideas of social responsibility. (Does technology always make life better?  Why should I care about the environment?) The appendix is a rich assortment of resource tools, including websites, blogs, short stories, and fiction and non-fiction titles suitable for middle school students.
Overall, I appreciate the way Caring Hearts integrates inquiry-based learning with thought-provoking book titles and a eye to promoting critical thinking. The book also provides excellent examples for strategies to promote reading for pleasure within the classroom. Teachers can rely on this resource for planning inquiry-based literature units.  My only issue with this inspiring professional resource was the growing list of adolescent novels that I now want to purchase and read!
Judi-Lynn Laman is a member of Hamilton-Wentworth Teacher Local