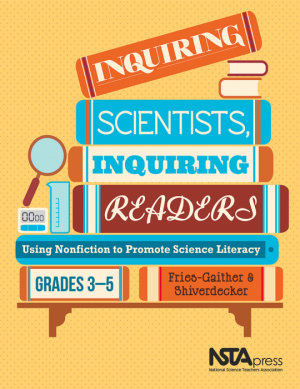 Inquiring Scientists, Inquiring Readers: Using Nonfiction to Promote Science Literacy
Written by Jessica Fries-Gaither and Terry Shiverdecker, NSTA Press, 2013, 304 pages. $37.95
In the last couple of years, there has been a tremendous shift in thinking about science teaching and learning at the elementary level, and teachers are being encouraged to move toward a more inquiry-based approach that connects the science curriculum with environmental issues and outdoor learning.
Elementary teachers who are passionate about teaching science and inquiry are no doubt already familiar with the National Science Teachers Association. Their books and journal Science and Children are among the most helpful resources I have come across to support teaching science and environmental inquiry. This book begins with a thorough overview of inquiry and how it relates to the learning-cycle framework, focusing on skills and strategies that are fundamental in both scientific and non-fiction inquiry. A careful implementation of the strategies in this book helps in developing observation, inference, measuring, communicating, classifying, and predicting skills.
What distinguishes Inquiring Scientists, Inquiring Readers from many other books on science inquiry is the book's attention to bringing authentic and relevant literacy experiences into inquiry learning. The authors clearly have a deep appreciation for the importance of motivation as a primary ingredient for student success and therefore build their inquiry units around a multi-genre nonfiction text set.
Although one of the great strengths of this book is the thorough and elegant description of the inquiry cycle, and the integration of text sets, the most valuable (and substantial) part of this book is in the second half. The authors take the main components of elementary science education and develop an inquiry unit for each, including an overview, objectives, standards alignment (easily adapted to curriculum connections), time frame, scientific background information, misconceptions, and a detailed description of the text sets being included.
This is a truly excellent resource and I hope that the book finds its way into the hands of teachers across the province.
Kim Frye is a member of the Elementary Teachers of Toronto.