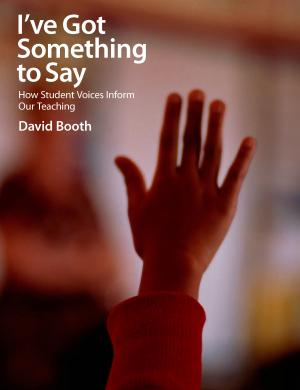 I've Got Something to Say: How Student Voices Inform Our Teaching
David Booth. Pembroke Publishers, 2013. 128 pages, $24.95
I've Got Something to Say: How Student Voices Inform Our Teaching is the latest offering from David Booth, professor emeritus and scholar in residence at the Ontario Institute for Studies in Education, University of Toronto. The idea for the book developed from a Ministry-funded action research project focused on the value of talk in the classroom that took place in the Peel District School Board 20 years ago. Throughout the three-year project, teachers observed, documented, shared, and reflected with colleagues to develop a "talk curriculum." Fast-forward 20 years, and Booth found himself reflecting once more upon the salient notion of talk, but with the desire to "move it forward into a discussion of voice." Thus the book draws on the experiences and voices of Booth and the teachers and students with whom he has worked for more than 25 years.
Each of the ten chapters begins with an authentic classroom experience that highlights student voice in the language or drama classroom. The book moves from a discussion of the purpose of talk and a comprehensive list of the different "modes of talk" in which students engage in the classroom, to how "teacher talk" and "modelling oral language" promote the "participation of the students and the quality of their language and thought."
Throughout the book there are numerous strategies, examples, and prompts that are practical and can easily be implemented in classrooms where language is a focus, whether it be in response to reading, writing, or oral language. For those teachers who do not specifically teach either language or drama, there is a chapter dedicated to "Supporting Voice through Technology," and to "Organizing and Assessing a Classroom of Voices." This supports all teachers looking for ways to provide more "choice and voice" for their students.
Though the book is based on a project from 20 years ago, Booth succeeds in making this book relevant and meaningful for today's practitioner to support the very current notion that "interactive learning is transformative."
Melanie Wolfe is a member of the Elementary Teachers of Toronto Local.