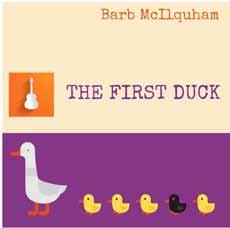 Barb McIlquham: Mighty Music Makers, 2014 CD – $17.70 (plus HST and $3.99 for shipping). Download album – $16.99 (plus HST). Download song – $1.99 (plus HST)
Don't miss a beat and bring the joy of music making into your classroom with The First Duck, which actively engages children and adults in singing, moving and playing. Barb McIlquham has combined her passions as a professional musician, an educator and a mother in this delightful children's CD.
Barb's first CD for children, the highly successful Come and See My Rainbow, was released in 2001. Barb was awarded ETFO's Multimedia Award for this CD and has received two awards from Curriculum Services Canada. She has now purchased a home studio and, although it took many years to complete, The First Duck has arrived.
The First Duck is a unique collection of original music all written and performed by Barb (with a little help from her family, Scott, Gabriel, Frances, and friends). A catchy new alphabet song, "The Letters of the Alphabet," a percussive and rhythmic counting chant, "Counting," and a gentle ode to the importance of singing at anytime of the day, "Sing a Song," are a few examples of the charm of this musical compilation.
The First Duck explores experiences and concepts that are important to and emerge from young children. In fact, children in her Kindergarten classrooms have provided the inspiring ideas for her creative songwriting. Educators are encouraged to view lesson plans at www.mightymusicmakers.com that align the songs on this CD with the learning expectations outlined in the Full-Day Early Learning – Kindergarten Program document (Draft version, 2010-11).
Performing and engaging children in singing is Barb's gift to the world. From her experiences as a Kindergarten teacher, music specialist and mother, she has always felt that children need more singing in their lives!  Barb has answered this call with her children's CDs and with the creation of Mighty Music Makers Interactive Kindergarten Concerts. You are invited to bring the joy of music making into the lives of your children at home and at school with The First Duck or with an interactive presentation by Barb McIlquham herself (www.mightymusicmakers.com). 
Brenda Schepper is a member of the Kawartha Pine Ridge Teacher Local.