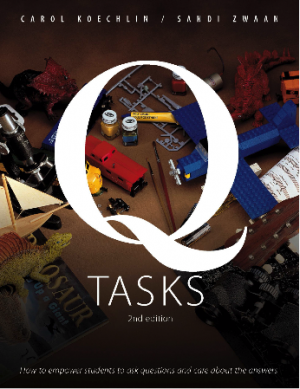 Q Tasks, 2nd Edition: How To Empower Students To Ask Questions And Care About The Answers
Carol Koechlin and Sandi Zwaag. Pembroke Publishers, 2014, 160 pages, $24.95
As technology and access to information become more readily available in our everyday lives, the need to support inquiry in our classrooms is vital. In their newly revised edition of Q Tasks: How to Empower Students to Ask Questions and Care About the Answers, Carol Koechlin and Sandi Zwaan have created a resource that supports students' curiosity, wonder and questioning as they build new ideas.
The book is chock-full of ready-to-use lessons that focus on elevating students' questioning skills, taking them to a new dimension of learning. Although teacher questioning is important, when students are empowered to ask questions learning soars. Each Q Task addresses a teacher need in the form of a question (e.g., How do students get to the right question?). Each lesson is divided into three parts: Clarifying the Task explains the importance of the task, Building Understanding outlines the learning strategies used in the lesson and Demonstrating Understanding describes how students will demonstrate the skill with suggestions for assessment. Additional learning opportunities are presented in the Q Task Quickies attached to most lessons. The new, revised edition also contains Q+ extension activities that suggest methods of linking collaborative technology (e.g., Google Docs, Explain Everything, Storybird, etc.) to the task. I also appreciated the Q Tip suggestions for resources to further teacher learning.
Q Tasks connects student questioning to student inquiry. Koechlin and Zwaan address inquiry as a social learning experience that places collaboration, communication and appropriate digital citizenship at the front of new learning. Suggestions for creating a community of learners are included in the introduction. I enjoyed the quotes woven throughout the text. Each one pushed me to think more deeply about the importance of student questioning, curiosity and constructing new ideas through inquiry. Q Tasks is easy to read and full of ideas that teachers can implement tomorrow. A highly recommended resource for the inquiry classroom!
Rebecca McEwen is a member of the Hamilton-Wentworth Teacher Local.