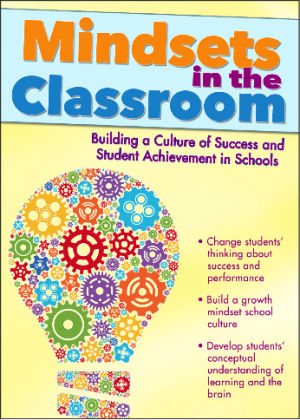 Mindsets In The Classroom: Building A Culture Of Success And Student Achievement In Schools
Mary Cay Ricci. Prufrock Press, 2013, 184 pages, $21.95
As teachers we have faith in our students to achieve whatever they put their minds to. Our job is to help them realize their full potential through perseverance, practice and resilience. In the book Mindsets in the Classroom: Building a Culture of Success and Student Achievement in Schools, Mary Cay Ricci builds on the concept of "developing students' conceptual understanding of learning and the brain." The book begins with two simple questions: What are mindsets? How do they affect the classroom?
As Ricci unpacks these questions, she increases the reader's knowledge by weaving concepts of intelligence and "brainpower" along the way, combining poignant messages to teachers, administrators, parents and students "… that they can change the way they think about success and intelligence in the classroom." The text – based on Carol Dweck's scientific findings related to the malleability of the brain and its ability to retrain itself with effort and constant practice – helps build a foundation for educators and parents to begin the formal implementation of "growth mindset" in the classroom and in the home.
Ricci encourages all stakeholders to work together to foster a growth mindset perspective: "We need to step back, take a breath, and realize that it is not about how fast students master learning … It is about the persistence and effort that they put forth." With mindset-related tools such as the use of specific terminology, age-appropriate literature, games, posters, pictures and quotes, educators and parents can create the blueprint necessary to cultivate an environment that respects and responds to the learning needs of all children.
Mindsets in the Classroom encompasses sound pedagogical ideologies that encourage an environment of "critical thinking, differentiated responsive classrooms, and student responses to failure" and reinforces the need to embrace this environment. Most importantly, Ricci looks at the message parents should hear about developing growth mindset, and how encouraging resiliency in children will ultimately build confidence and success.
Samantha Williams is a member of the Peel Teacher Local.