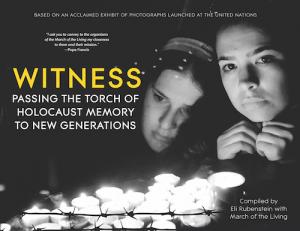 Witness: Passing the Torch of Holocaust Memory to New Generations
Compiled by Eli Rubenstein, with the March of the Living. Second Story Press, 2015. 136 pages, $32.95
The Holocaust is a narrative of unparalleled darkness in mankind's tangled history. Its survivors – the first-hand witnesses of WWII Nazi concentration camps like Auschwitz- Birkenau – now number fewer than 350,000 and are approaching end of life. What will become of their stories when they can no longer share them?
Witness: Passing the Torch of Holocaust Memory to New Generations answers this question in an interactive, 136-page picture book to mark the 25th anniversary of the March of the Living. This educational program unites high school and post-secondary students worldwide with Holocaust survivors in Europe to bear witness to the Nazi genocide. In doing so it inspires future generations to resist prejudice, oppression and hatred. The book blends survivors' stories with the reactions of people of various faiths and walks of life who, as a result, have "fiercely committed themselves to changing the world in which we live." Here, the survivors' oral storytelling – a hallmark experience of mankind – takes its healing power to a new generation. Students become "witnesses for the witnesses," part of history themselves through shared experience.
With its many primary source artifacts, Witness is a great starting point for intermediate- level inquiry-based learning and a superb addition to school libraries. Text woven throughout six chapters provides a wellrounded summary of Holocaust events, such as What Happened? And to Whom? Where Did it Take Place and Who Let It Happen? And Who Resisted? And How? Readers can also use a free Digimarc Discover smartphone app to view exclusive survivor video from the archives of the USC Shoah Foundation and the March of the Living.
One might expect, given the unfathomable depravity of the Holocaust, an undertone of bitterness or even hatred in this text. Yet it is the absence of these sentiments that renders the book so powerful. The contemporary and archival photographs, poems and personal statements all underscore a central point: the power of mankind to respond, resist and reunite as one.
Stephanie Reisler is a member of the Elementary Teachers of Toronto.