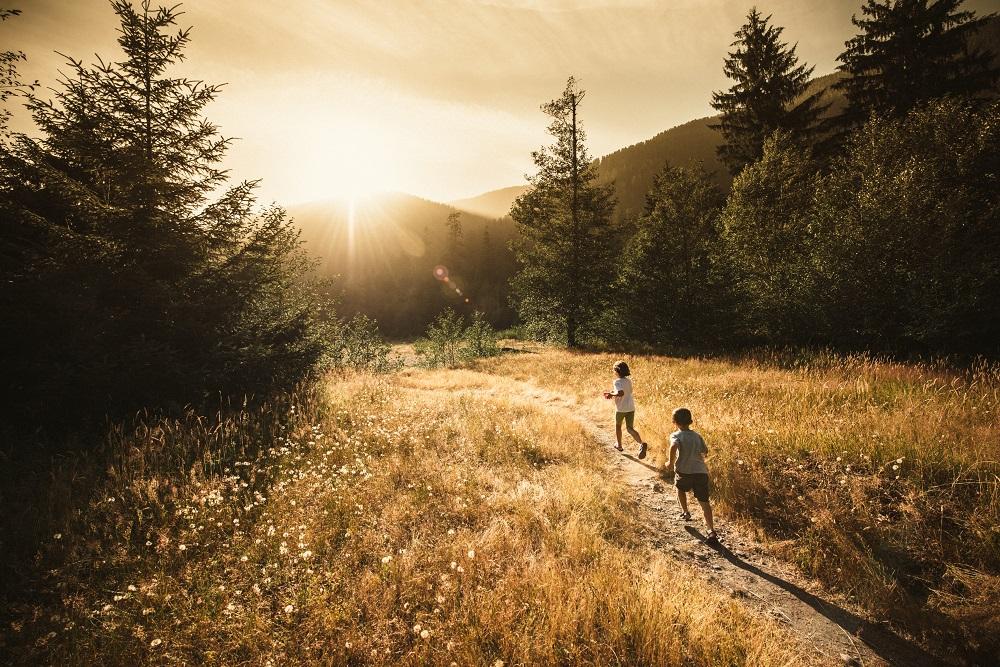 ARTICLE
Nature: An Antidote for Our Collective Well-Being and Mental Health
Online Only
I have spent the past nine years teaching and learning on the land with colleagues, students and families. Snowshoeing, tracking, bird watching, wonder walks, friction fire attempts – the learning each day was guided by the seasonal changes and sparks that were happening on the land. These experiences have allowed me to see the powerful effects a day outside on the land can have on our students' and colleagues' well-being. This work has allowed me to be part of many students' "best day ever!"
To be a witness to the power of nature on a regular basis has made me a passionate advocate for all students' right to equitable access to rich nature spaces in nearby neighbourhoods. As school communities, we have the ability to support our students and their families to develop deep connections to these spaces. When we take time to learn the stories of the land, we begin to deepen our connection to it. As Robin Wall Kimmerer, author of Braiding Sweetgrass, recently shared, this is the first step in building a relationship with the land. We then begin to understand the relationships that have existed before. She argues that the land is a tool needed for our mental health. We need to learn about it, love it, care for it. This message has never been more timely.
The arrival of the COVID-19 global pandemic has had many school boards and teachers looking to outdoor learning as a way to reduce the risk of transmission of the virus. At the same time, many students are learning virtually or in some sort of hybridized model. For these students, much of their day is spent in front of a screen for both learning and pleasure.
This generation of youth spends less time outside than did previous generations. Let that sink in for a moment. Thousands of young healthy bodies sitting in front of screens for hours each day. Through work with elementary virtual school this fall, many students spoke of not going outside at all for fear of exposure and the possibility that spread could occur in a multigenerational home where elders live. Others, when asked to find a window to look for birds, expressed concern that they couldn't see out of any of the windows – the windows were too high in their basement apartments. For students in condominiums or high-rise buildings, the process of getting outside carries risk – elevators, their touch points and limits of only two people at a time.
The pandemic has highlighted unequal access to the land for many in our urban spaces, but most especially for our most vulnerable, at-risk students. Severe economic impacts on families have made it difficult for these students to access the positive benefits of being on the land, such as a working parent or guardian who isn't able to bring them to these spaces, limited access to safe, public spaces, a lack of warm footwear, gloves and snow pants. Solutions to these problems require us to come together to decide what our most important priorities are for youth. While there is a great deal of discussion about mental health among our students, we need to collectively ask ourselves how we can begin to find solutions to ensure our students have a relationship with nature. We know this relationship can give us so much.
Being active outdoors is associated with many benefits, including improved social skills, motor skill development, healthier body weight and increased overall physical activity. According to Outdoor Play Canada, when children are are exposed to nature and the outdoors they are happier, have more energy and are less anxious. Another study showed that at least two hours in nature per week is strongly correlated with good health and well-being. This is critical as our students spend increased time indoors and in front of screens.
Experiences in nearby nature allow students to feel connected, build reciprocal relationships and see themselves as part of a larger ecosystem that integrates all living things. When we focus on raising the achievement and the well-being of students who are underserved and underperforming, all students benefit.
It is in nearby nature where some of the most magical moments build connections to the natural world. Birds are everywhere yet few of us pause to notice, look, wonder and question. Our students easily identify numerous corporate logos, but put a collection of winter birds in front of them and few would be able to identify them all, never mind know their calls. Birds open a window for us to connect to seasonal change. Their arrival signals a new season – the spring robin, summer hummingbird. Birds allow us to build inquiry and ties to curriculum. Organizations such as Birds Canada provide rich opportunities for citizen science programs, such as the Great Schoolyard Bird Count, through which students contribute to "real science" that helps scientists understand the current state of birds. These programs enhance our communities as they provide an entry point for a lifelong journey of learning and inquiry. When we build a love for birds, we are driven to help them and do more to ensure their survival in our own backyards.
The land does not hold the same value to all communities. For some cultural groups, their historical connection to the land has been a difficult one due to colonization, slavery, displacement, war. For many new Canadians and racialized Canadians, the land has not been a healing place. As Demiesha Dennis writes on her Brown Girl Outdoor World blog "my healing is intrinsically tied to my community. Through nature-based activities we increase the number of people who know nature, love it and will work to protect it. Environmental protection is not a one race job". Consider the story this past year of a Black birder in New York who asked a woman to leash her dog. The story went viral after a video showed the woman using her privilege to claim space when she reported to the police that she felt threatened. These stories demonstrate that outdoor spaces are not safe places for all. As educators, we must create spaces for all our students to have a voice and choice in the work we do together as we redefine what this relationship can look like, to unlearn what many of us have been "taught about who deserves space in the outdoors, who gets to care for it and fully define what this relationship can look like – removing the elitism" (Brown Girl Outdoor World FB 2020, Dec. 8).
Indigenous communities have learned on and with the land since time immemorial. This way of learning involves hands-on experiences that centre relationships and focus on the whole child – body, mind, heart and spirit. Learning is shared through stories and, for some who hold special knowledge of Indigenous languages, a view into the deep connection humans have with creation. As we work in the education system to bring the calls to action from the Truth and Reconciliation Commission to life, learning on the land provides an opening to reconcile with the land. For many leaders in Indigenous education this truth must happen first before we can move forward to reconcile with each other. When we take the learning outside, we begin to build our connection to nature, to place and find gratitude in nearby nature.
Below we offer some simple tips and tricks to support outdoor education wherever you may be. Some options are ideal for face-to-face learning environments, while others provide ways to bring the outdoors to our virtual learners. Taking a large group of students outdoors can feel daunting. There are so many factors to consider. How do I cover my curriculum? How do I keep students engaged? How do I keep students comfortable when it is cold, wet, windy, hot or rainy? The list of obstacles is extensive along with possible risks and yet consider the results if we don't incorporate this work into our routines? There is abundant knowledge and support for teachers and schools working to build this into their school community.
Connect with outdoor educators in your school board. Many school boards have champions for outdoor education who have been offering outdoor learning for years. These people are fantastic internal resources. They have a wealth of knowledge and are usually very passionate about their approach to education. Seek them out and see if they are willing to act as a mentor. If you can, go a step further and speak with your school administrators so they can support these mentors in sharing their knowledge.
Seek out external providers. Regionally, there are dozens of external organizations and providers who can offer meaningful outdoor educational experiences or support teachers to do the same. These include parks (urban to national parks), outdoor centres, camps and private companies. Due to the COVID-19 pandemic, many schools are working with such providers to deliver safe and appropriate programming. Many conservation authorities have pivoted their face-to-face work with schools to virtual learning models. While definitely not the same as a hands-on experience on the land, these programs can often spark inquiry into nearby nature.
Explore local not-for-profit organizations and clubs. Many birding clubs have a large seniors contingent who are keen to share their knowledge. Virtual guests to a classroom can add a beautiful community element and allow resident experts to share their knowledge to support the next generation. Ask families about the local naturalists and host a virtual question and answer session.
Sit spots. Allow opportunities for students to sit in nature regularly. Through regular visits to their spot through the seasons, subtle changes begin to provoke deep questioning that connects to many elements of the curriculum.
Community Walks. The Walking Curriculum provides a wide variety of ideas and prompts to guide thinking and learning through community walks.
Live cameras. These sites provide access to live feeds from cameras all over the world and provide access to nature when it is not possible to get outside: Cornell Lab of Ornithology, Explore.org.
Field guides. Access to a collection of field guides in the classroom supports nature inquiry. Birds, mammals, insects, wild flowers, trees, there is abundant variety to choose from and some can even be found online, such as the Cornell Lab All About Birds Online Guide to Birds which even includes audio files of bird songs.
Story walks. What better way to enjoy reading than by engaging with it in an outdoor space! A StoryWalk is essentially a picture book that is disassembled, the pages laminated, then each page posted on a stake, which line a path or a trail. Extensions are endless as provocations and activities can be placed along the path to connect to the text. Popular social media apps are loaded with ideas for story walks. A perfect winter picture book is Over and Under the Snow by Kate Messner.
Tracking. One of the most exciting activities to connect students to the land is animal tracking, looking for animal tracks and any other signs they may have left behind. This activity sparks the inquiry process in a way that goes beyond any activity presented in the classroom. Who left the tracks, how was it moving, where was it going, when did it pass by? When combined with nature journaling, field guides and sit spots, students begin to think more deeply about the land they are on and all the living things they share space with.
Birding. Birds are everywhere. No matter where you are, guaranteed with a bit of time, you will see a bird fly by. They also signal seasonal change and provide an entry point for rich discussions around life cycles, habitats, migration, climate change, even geo-political relationships when we consider, for example, the impact our love for coffee has on habitats many birds migrate to. There is perhaps no more important activity students can engage in than learning what their local schoolyard/backyard birds are. Birds Canada hosts a variety of programs that support educators to help students connect with birds, such as the Great Backyard Bird Count and Project Feederwatch.
Teaching outdoors can be a meaningful learning journey for teachers and students alike. The activities offered in this article are all low-risk and designed to be accessible for all teachers. If you are interested in broadening the range of educational activities you can offer, pursue professional development to acquire additional knowledge, skills and competencies. This helps to mitigate risk and promote quality education and fun for all.
The Outdoor Council of Canada, the Child and Nature Alliance of Canada and Take Me Outside are working together to facilitate access to meaningful professional development for teachers. If you would like more information on quality outdoor learning training, reach out to any one of these organizations and they will be eager to support you.
Gina Marucci, Curriculum Consultant for Outdoor Environmental Education, is a member of the York Region Teacher Local. Special thanks to Jodi Johnston who offered feedback on early versions of this article.