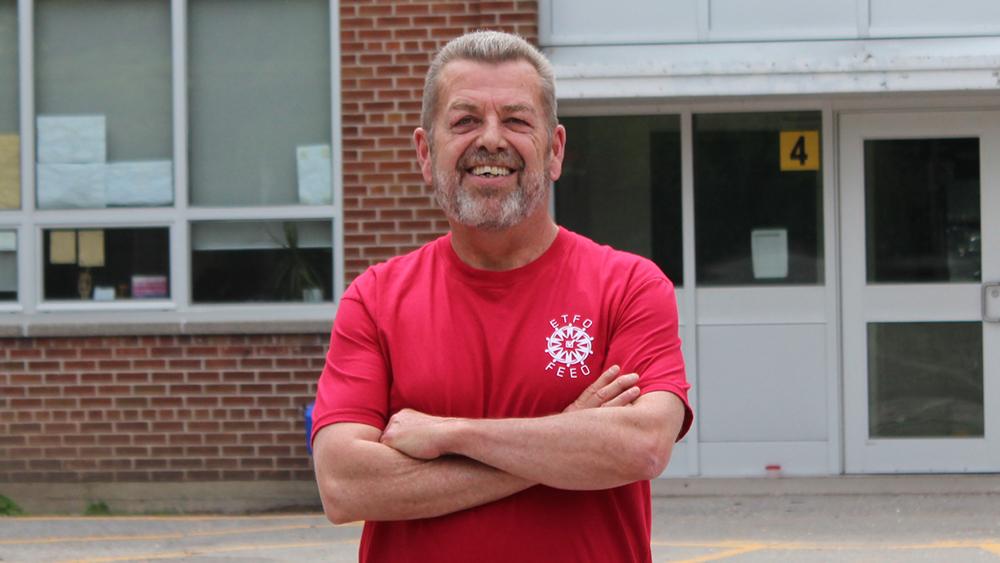 ARTICLE
True Leadership: President Sam Hammond Will be Remembered for His Strength, Kindness and Deep Respect for Members
At the end of August, President Sam Hammond will be ending his tenure at ETFO to begin his role as the President of the Canadian Teachers' Federation. Sam has led the organization through so many challenges, and we are grateful for his resilience, his kindness, his leadership and his commitment to equity and social justice.
Sam served on the provincial executive from 2003 to 2009 and was elected president in 2009 after running from the floor of annual meeting. Central to his work as president was the protection of the public education system – lobbying successive governments, leading ETFO through bargaining and standing firm in his commitment to Ontario educators and students.
Sam fought to ensure that Ontario public schools were safe and healthy for educators and students. With the classroom always top of mind, Sam knew the importance of ensuring that Ontario continues to have one of the best public education systems in the world. He was committed to every student getting an excellent public education, regardless of their personal circumstance or geographic locations, and led ETFO as we challenged successive government to do just that.
In his years as president, Sam fought for Full-Day Kindergarten, to bring Designated Early Childhood Educators into ETFO and for the return of the two percent of lost pay from the 2008 round of bargaining. He led our Charter Challenge against Bill 115, filed a labour board complaint to challenge the rescinding of Regulation 274 and began our 2021 Charter Challenge on Bill 254, which restricts third-party election spending and silences progressive critics of the Conservative government in the run up to the 2022 provincial election. He led ETFO through the introduction of province-wide bargaining and as we charted our way through the COVID-19 pandemic over this past year.
Through it all, Sam remained committed both to the broader labour movement and to equity and social justice.
He understood that educators have a critical role to play in moving progressive politics forward not just for public education but for a host of other social justice issues. Sam supported ETFO's Humanity Fund and led ETFO as we increased our focus on supporting equity in our communities. He understood that our classrooms are microcosms of our communities and we must move everyone forward in order to support our students. He encouraged ETFO members to be involved in their communities and to participate in electoral politics for the good of public education and social justice.
As a leader committed to equity, he was principled in his commitment to ensuring that there were leadership opportunities and spaces for women and other underrepresented groups and always supported the six percent of the ETFO budget dedicated to women's programs. Sam called out inequity when he saw it and led the organization as we strategized to address it.
Despite the right-wing backlash, he led ETFO on standing our ground on a host of important issues – anti-Black racism, colonialism, trans rights. Under his leadership, ETFO launched our White Privilege curriculum document which received a great deal of backlash but ultimately shifted the conversation in Ontario. Sam led ETFO as we worked to change the conversation around these and other issues and continued to be leaders in equity and social justice in the labour movement.
Sam is admired for his honesty, his integrity, his commitment to equity and his respect for ETFO members and staff. He was never afraid to share the many personal obstacles he had to overcome to become the leader he is today and to support and encourage others to do the same. He is a proud union leader who brings people together and we are so grateful for the years we have spent working with Sam at ETFO.
We are looking forward to supporting him in his new role as President of the Canadian Teachers' Federation.