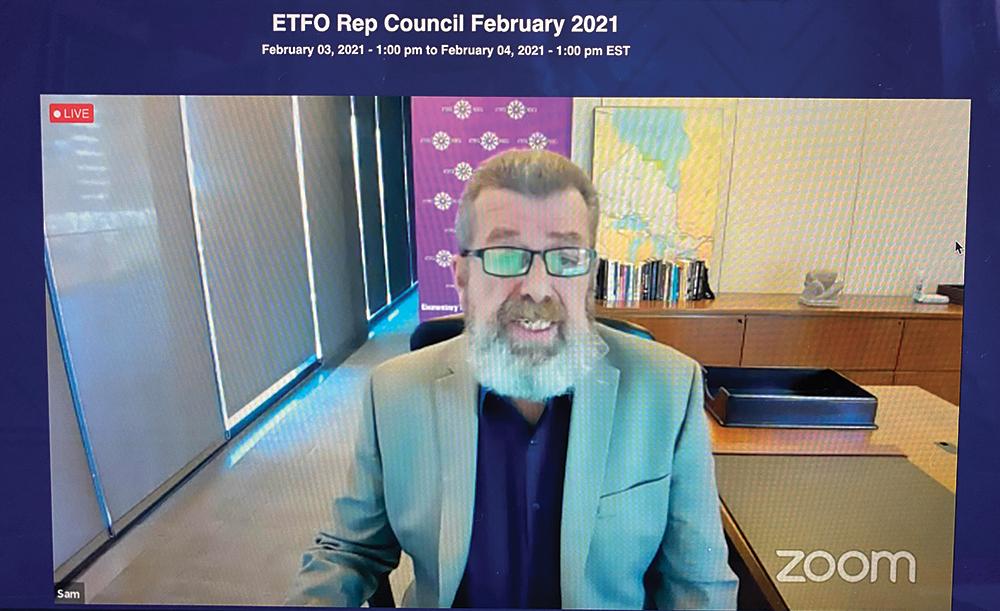 ARTICLE
Your Federation: February Representative Council
ETFO's February Representative Council meeting was held over Zoom on February 3 and 4, 2021. Delegates debated motions and had discussions critical to the work of the federation. ETFO released its Kindergarten report, Ontario's Kindergarten Program: A Success Story, as well as a video celebrating 10 years of Full-Day Kindergarten in Ontario. President Hammond began the meeting by recognizing Black History Month. "I understand the importance of teaching Black history every month of the year and improving our approach to telling the stories that reflect the dignity and richness of Black history," he said. He also noted that the Provincial Executive voted in January to fund Ontario Black History Society programming. President Hammond went on to discuss the government's failure to respond appropriately to COVID-19 and the detrimental impacts on educators and public education. He looked forward to the next provincial election, "It is up to all of us to make sure Ford and his government are held accountable every single day and ultimately, at the ballot box." He concluded, "We continue to celebrate the work of our members and our amazing public education system despite the attacks from the Ford government."
Addressing Anti-Asian Racism: A Resource for Educators
During the summer and fall of 2020, ETFO and the Toronto District School Board partnered to develop a new 90-page resource, Addressing Anti-Asian Racism: A Resource for Educators. This educator document is the first of its kind in Canada. It positions Black lives and Indigeneity as essential to addressing anti-Asian racism within the context of fighting against white supremacy and colonialism. The content offers historical and contemporary learning and strategies for members to use to disrupt racism in schools. This resource is available for free download at etfo.ca.
Celebrating 10 Years of Ontario's Full-Day Kindergarten Program
Last year, ETFO commissioned a report to mark the tenth anniversary of the introduction of Ontario's ground-breaking Full- Day Kindergarten program in response to statements made by political leaders suggesting potential reforms to the program. Dr. Gordon Cleveland, Emeritus Associate Professor of Economics at the University of Toronto, was asked to assess the impacts of these potential reforms on the Full-Day Kindergarten model and on the children and families who benefit from it. Dr. Cleveland reviewed, analyzed and synthesized evidence from a wide range of studies in Canada and other countries. The conclusions of his report provide a compelling case for maintaining and investing in the kindergarten model we have now. To read the Executive Summary or full report follow the following link (etfo.ca/link/FDKsuccess).
Full-Day Kindergarten Video
In February, ETFO released a new video to celebrate 10 years of Full-Day Kindergarten in Ontario. The video recognizes and celebrates this important milestone for our teacher, occasional teacher and DECE members. Watch the video at etfo.ca.
A Year-Long Focus on Black History
Black History Month exists to remind us of the rich contributions people of African and Caribbean decent make to our society and of their ongoing struggle for equity and social justice. As we work to ensure equity and racial justice for all, ETFO encourages a year-long focus on Black history as an integral part of learning about Canadian history and current issues.
Given the legacy and prevalence of anti- Black racism in colonial systems, institutions and society that groups like Black Lives Matter have brought to light, we must do more to infuse Black excellence and Black Canadian histories into public education.
Resources are available for download at etfo.ca/buildingajustsociety/anti-blackracism/pages/anti-blackracism.aspx.
ETFO's COVID-19 Support and Response
ETFO publishes bi-weekly e-newsletters with information and opportunities that address your questions and issues regarding COVID- 19. If you are not receiving these resources, please sign up at etfo.ca.