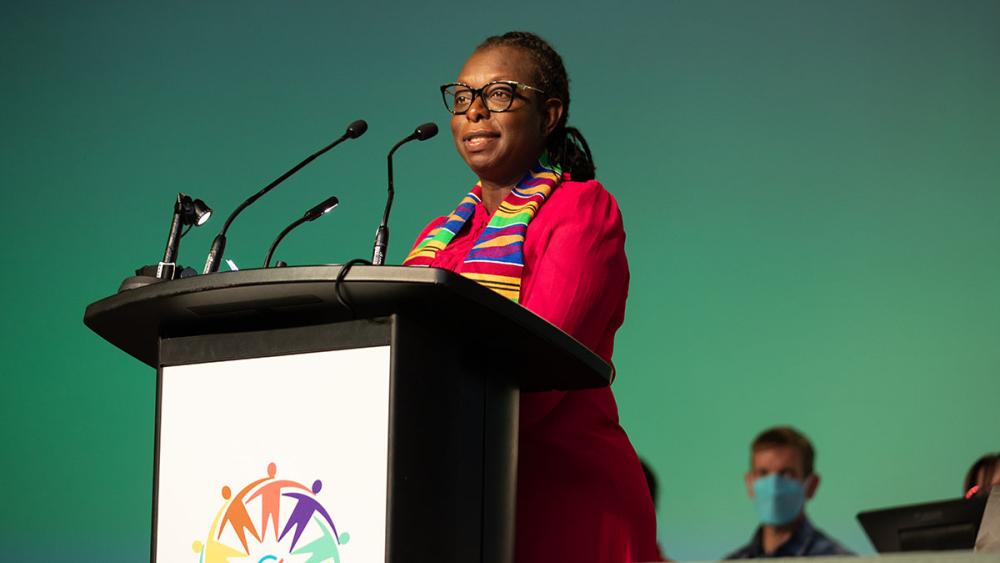 ARTICLE
Your Federation: Spring 2023
February Representative Council
Winter Representative Council took place on February 1 and 2, 2023. President Karen Brown addressed and welcomed members and observers to the meeting. She talked about ETFO's Black History Month poster by artist Benny Bing as well as an ETFO podcast featuring filmmaker Jennifer Holness. Reflecting on the past few months, Brown said, "A lot has happened since we last met in October. We were on the cusp of a very serious confrontation with the Ford government over Bill 28. The labour movement drew a line in the sand and was prepared to do what was needed to defeat that bill and protect our Charter and labour rights. Faced with a united movement and the prospect of a general strike, Ford buckled and repealed the bill. Our own bargaining has been progressing slowly but surely. We are bargaining for real compensation increases for all of our members – teachers, occasional teachers, DECEs, ESPs and PSPs – who work hard every day and deserve salary and benefits that reflect that work," she said.
Representative Council guest speaker law professor David Doorey reflected on the Ford government's ill-fated decision to use Bill 28 to undercut the CUPE labour dispute and the subsequent labour and community response. Doorey said, "The Canadian labour relations model only works because employers, unions, and government respect a fragile compromise. Unions and workers agree to follow the rules about when strikes are permitted and in exchange the government promises to make sure employers bargain with unions and respects a right to strike if bargaining breaks down. Once employers and governments walk away from their end of the bargain, then we should anticipate that labour will see no reason to uphold their end of the compromise either."
ETFO's 2023 Pre-Budget Submission
On February 13, President Brown participated in a pre-budget consultation hearing held by the Legislature's Standing Committee on Finance and Economic Affairs. President Brown highlighted the impact of funding cuts made by the provincial government and the need to invest in public education as Ontario continues with its post-pandemic recovery. She called on the government to close the education funding gap identified by Ontario's Financial Accountability Office and invest in the public services Ontarians depend on. "The pandemic exacerbated pre-existing concerns about large class sizes, the poor physical condition of schools, the lack of access to technology and the government's failure to provide appropriate funding to meet the needs of all students," she said. "Violence against educators remains a concerning, pervasive and growing issue. Many school spaces are not safe, especially for those working on the front lines with students whose needs are not being met. Despite these challenges, educators have shown incredible resilience and commitment."
Day of Pink, April 12, 2023
The Day of Pink was started in Nova Scotia in 2007 when two Grade 12 students saw a Grade 9 student who was wearing a pink shirt being bullied on the first day of school. Bullies harassed the boy, called him a homosexual for wearing pink and threatened to beat him up. Two Grade 12 students responded by buying and distributing 50 pink shirts, encouraging their peers to arrive to school wearing pink.
The result was that the school took a stand and began working together to prevent bullying. This year's theme is based on the Audre Lorde quote, "We are powerful because we have survived." Check out available resources at etfo.ca.
Bill 115 Remedy Payment
In February, the Ministry of Education completed a review of all Bill 115 Remedy Notices of Objections.
Ministry staff are in the process of updating the final eligibility payment list and are on schedule to have the transfer payment issued to all school boards by April 1, 2023. School boards will then issue payments to all eligible individuals by June 1, 2023.
Go to etfo.ca for background on ETFO's Charter challenge against the government and Bill 115.
ETFO Scholarships and Bursaries
The ETFO Scholarships and Bursaries Program offers financial incentives to members and non-members entering faculties of education, members studying at the graduate level and members upgrading their qualifications at publicly-funded universities/institutions in Ontario. This includes bursaries for members of designated groups, including Black and Indigenous educators, and bursaries for children of ETFO members. The application period opens in January and ends April 30 each year. Scholarship and bursary applications, including criteria, are posted under each category during this period. See available scholarships and bursaries at etfo.ca.