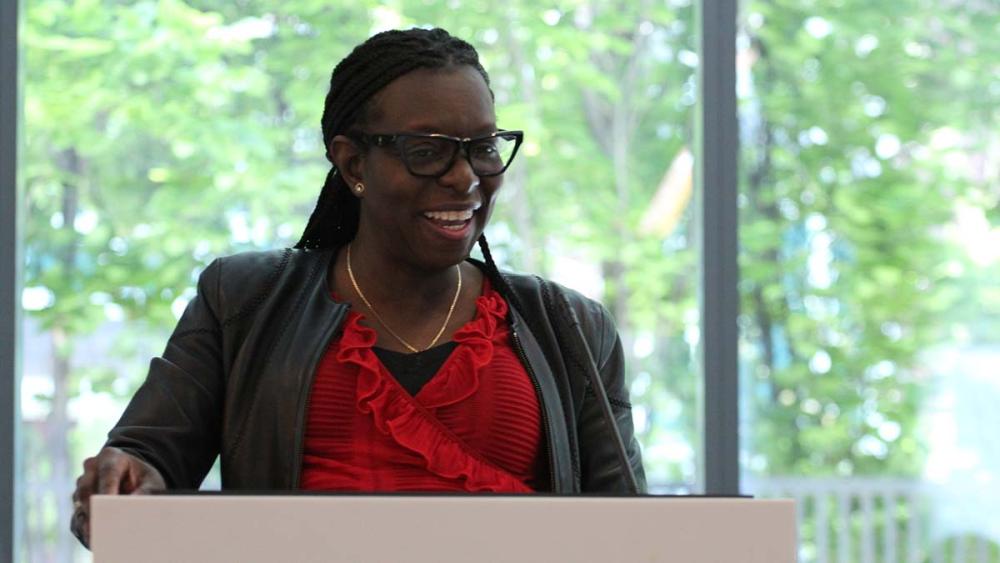 ARTICLE
Your Federation: Summer 2023
Spring Representative Council
ETFO's spring Representative Council was held on May 17 and 18 at the ETFO Provincial office. Local leaders gathered to put forward and debate motions and to hear an update on provincial collective bargaining. President Brown spoke to the delegation, calling out the Ford government for intentionally shortchanging public schools and continuing to attempt to create a crisis in public education. She noted a recent report released by the Canadian Centre for Policy Alternatives that indicated a $1,200 decrease in per student funding when adjusted for inflation since the government came to power. President Brown also reflected on a recent ETFO press conference on violence in schools, "Our message was clear. Violence against educators remains a pervasive and growing issue. Without adequate funding and dedicated resources and supports for students who need them, violent incidents in schools will continue to threaten the safety of educators and students, and place additional strain on educators' mental health."
President Brown concluded her remarks by saying, "We will not allow violence to be normalized in our schools. We will not be satisfied with band-aid solutions from the government. We're not going to let students take the blame for the government's failure. Our members deserve a safe workplace and our students deserve safe and supportive schools."
National Indigenous People's Day
In co-operation with national Indigenous organizations, the Government of Canada designated June 21 National Indigenous Peoples Day. This date was chosen because it corresponds to the summer solstice, the longest day of the year, and because for generations, many Indigenous groups have celebrated their culture and heritage at this time of year. National Indigenous History Month in June is an opportunity to teach students about the cultural diversity of the First Nations, Métis and Inuit in Canada and to celebrate the unique contributions of Indigenous Peoples. You can find great resources at etfofnmi.ca.
Pride 2023
Pride is an opportunity for everyone to celebrate with those who identify as 2SLGBTQ+ and to come together to support the ongoing fight against homophobia, transphobia, and the broad range of intersectional oppression experienced by members of the queer community. Pride is also an integral part of inclusive classrooms and the Elementary Teachers' Federation of Ontario continues to work towards creating safe and inclusive spaces in all Ontario's public schools and classrooms.
Check out the list of local Pride events at etfo.ca.
Canadian Labour Congress Convention
The Canadian Labour Congress' 30th Constitutional Convention was held at the Palais des Congrès in Montréal from May 8 to May 12, 2023.
The goal of the Convention is to create "a better future for ourselves, our loved ones, and our communities. A future with secure jobs, paid sick leave, higher wages and fairer benefits. A future where we have made life more affordable by winning pharmacare, affordable housing and dental coverage. A future where we have worked for true reconciliation with, and justice for Indigenous peoples. A future where we have created good, sustainable jobs that tackle the climate crisis and build the infrastructure that Canada needs. A future where our loved ones are cared for."
ETFO registered 131 delegates to the 30th Constitutional Convention of the Canadian Labour Congress. Delegates spoke at the microphone on a variety of issues and participated in caucus meetings, a rally and a number of workshops.
Congratulations!
Congratulations to Michael Beetham, this year's recipient of the Canadian Teachers' Federation International Program Volunteer Recognition Award.
CTF's Volunteer Recognition Award is conferred on a biennial basis to one recipient who displays exception leadership, creativity and decision- making skills, which enhance one or more CTF international project over the course of a few years. Since 1962, Project Overseas has assisted teacher organizations in over 50 countries in Africa, Asia and the Pacific, and the Caribbean.
In the early 2000s, Beetham worked in collaboration with the Sierra Leone Teachers' Union, teachers, peace educators and the Ministry of Education over five missions to develop new curriculum on peace, including developing a pedagogy of conflict resolution. The project grew into a train the trainer series and workshops were delivered in regions across Sierra Leone. Beetham later participated in a program in Uganda to develop local histories and build up business capacity and self-sufficiency.
Learn about Project Overseas at ctf-fce.ca.