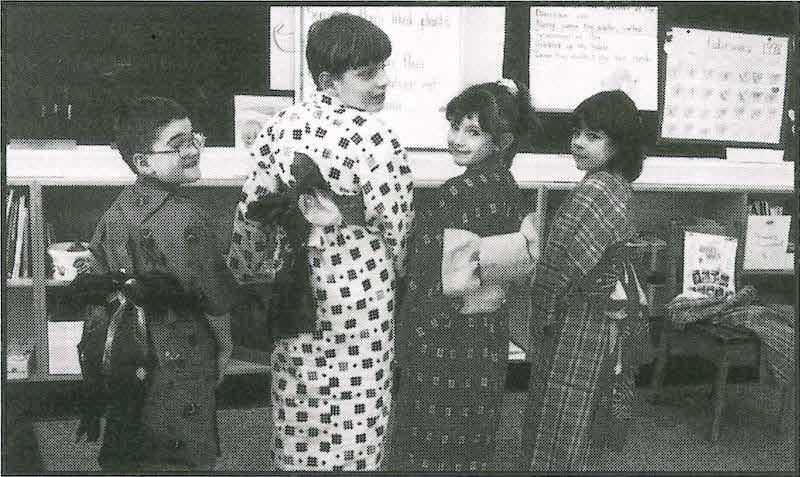 FEATURE
East Meet West The Japanese Internship Program In Canada
"My English is still not so good. I cannot make long sentences. But I can say Thank you so much. I am so happy."
Our school was saying a sad goodbye to our friend and teacher, Hiromi Yamaza- ki. Hiromi had made Central School in Dundas her home for the school year and was preparing to return home to Japan. The children fêted their friend with songs, dances, poems and letters. It had been a remarkable year for both the students and for Hiromi.
The customs and culture of Japan had been revealed little by little throughout the year and no one wanted a year of happy memories to come to an end.
Hiromi had come to Canada from Japan as part of the International Internship Program. Successful candidates complete an application form, pass a test and write an essay in English explaining why they want to be part of the program. Last year, 34 Japanese worked as educational assistants in Canada. The participants must pay their own way and pay for their room and board. Our responsibility was to welcome Hiromi into our school and to provide her with a home.
Our principal, Brian Reed, met Hiromi at Toronto Airport last September. Although she had studied English in Japan, she was understandably overwhelmed by her new situation. Because our school has adult education classes in the daytime, Hiromi was able to take ESL classes in the morning and help in the classrooms in the afternoons.
Hiromi began her year in my Grade One class. She enjoyed the songs, poems and stories the children were learning. Her English grew very quickly and soon she was listening to my students read and helping them with their activities. The children loved Hiromi's gentle ways, but she remained firm and committed. With Hiromi's help, many of the grade ones became terrific independent readers very early in the year. Even my reluctant readers would wait patiently in line to be able to share a book with Hiromi. Whenever Hiromi dropped in to the class, she would seek out the child who needed a kind word or a helpful hand to solve a problem.
Throughout the year, the students in the whole school participated in many of Hiromi's lessons. Origami became a favorite lesson for many of the children. We learned how to fashion cats, dogs, shirts, flowers. Origami is an excellent lesson for listening, following directions, and promoting dexterity in folding paper carefully and precisely.
Hiromi showed the video The Paper Crane. This animated story reminds us of the horror of Nagasaki and Hiroshima, but offers hope that we can attain a peaceful world. Each year, the Japanese children make thousands of paper crapes to symbolize this hope. This year, our children too learned to make the paper crane and make the wish for world peace.
Trying on Kimonos was a delight for the primary classes. Hiromi \y&s very particular that The obi (the sash) was tied correctly and the kimono fitted properly - the lesson was much more than just "dressing up."
All the students tried their hands at Japanese Calligraphy. In Japan, we learned, this is a serious lesson - talking is not allowed. Hiromi expected (and received) quiet and attentive classes. Some of the classes shared in tasting Japanese food. The children were intrigued by the different flavours to Canadian food and, of course, the use of chopsticks.
Undoubtedly, the highlight for our school was the Japanese Sports Day, held in June. The teachers and students were divided into two teams - the Red Team and the White Team. We first met on the school lawn for the Opening Ceremonies. The Principal addressed the gathering; we played the Japanese and Canadian national anthems and participated in Japanese exercises. Hiromi had taught all the students the exercises in gym classes so everyone participated easily. Then the grades competed in a number of relays and races - even the teachers were involved in a race with a grade six student as a partner. When you were not participating, you were cheering your team on to victory. The sporting events ended with all the students and teachers joining hands to participate in the Japanese dance celebrated at the Winter Olympics. Again, this had been taught to the classes ahead of time in gym classes. With the whole school dancing together, this was a very emotional experience. In Japan spectators take whistles, drums and other musical instruments to the games and revel in the loud noises.
We, in our turn, enjoyed exposing Hiromi to our Canadian life style. "I could not imagine a large tree in the house at Christmas time," Hiromi said. "In Japan, Christmas is for lovers. It is not spent with family."
Several trips "Up North" were part of Hiromi's stay. "I do not like the black flies," she said with the resignation of a true Canadian.
And Hiromi's impression of Canadian children? "Wonderful!" she says, without the slightest hesitation.
It has been a unique experience for all of us. Dundas Central has enjoyed this exchange so much that we are eagerly awaiting our second Japanese educational assistant, who will be with us throughout the 1998-1999 school year.
If you would like your school to be involved in this program, please contact Brian Reed at (519) 647-2676 or by e-mail pengally@aol.com.
Mae Newsome teaches grade one at Dundas Central School, Dundas.