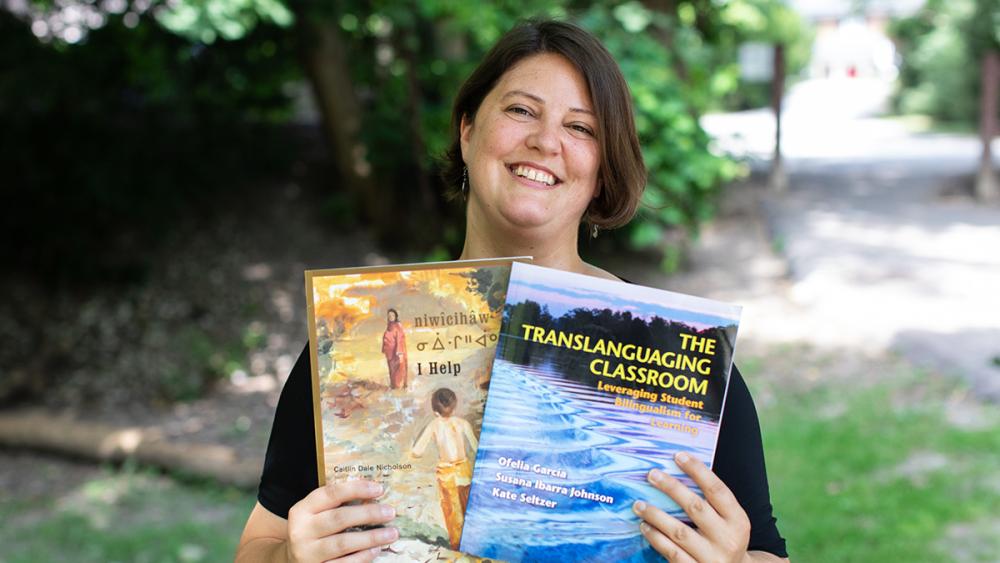 FEATURE
Embracing Our Students for Who They Are
The pandemic has had an impact on all our lives but especially on children and their education. There has been a lot of talk recently among educators and in the media about what students have missed out on. We are hearing a lot about how far behind our kids are with their learning and the curriculum.
This is often how newcomers in English Literacy Development (ELD) programs are talked about. ELD programs are designed for students who have recently immigrated to Canada and missed out on significant amounts of schooling due to reasons such as war and poverty. These students are seen as having gaps in their education or limited prior schooling.
For the past 15 years, I have had the pleasure of teaching and researching newcomer multilingual students with emerging print literacy. From these amazing students, I have learned a lot about how to work with students who have missed out on a period of formal schooling and how to frame their experience in positive terms. Much of this learning applies as we chart our way forward past this pandemic, particularly in how we talk about children's experiences from the past year and a half with COVID-19. After researching students with emerging print literacy between grades 4 and 6, I have some insights to share with all educators on how to reframe the experiences of our students to steer away from deficit thinking.
Connecting Families to Classrooms
Before the pandemic, I was unsure of why this was important. Of course, kids are going to talk about loving their family, but after having my own son out of school for large chunks of time over the past year and a half, I understand now what my students were trying to tell me. Family becomes your whole world. It's the only thing that is constantly there. Almost all your waking hours (and sometimes sleeping) are filled with family. The children who had missed a lot of school loved their families deeply.
We need to embrace family and community, figuratively, not literally. I propose moving beyond the idea of having settlement workers present in school as interpreters and for community outreach. Once restrictions are lifted and parents are allowed in school buildings again, schools may want to consider having parents present not only in their buildings through LINC classes, but as an integral part of the classroom learning. Moreover, siblings could continue to work together supporting each other's literacy practices and learning. Building multigenerational families into a child's learning is a great way to recognize and value their experience.
Even when parents or younger siblings cannot be physically present, families could be incorporated as a topic into any subject area with any student. Have parents come in as guest speakers or to work with their children at home to create bilingual read alouds that students can then share with the class.
Educators can use the theme of families in communities in their unit planning, for example, or try to continually connect learning to what is happening in the children's homes. Have students write about household chores and family activities as well as faith and personal values. They could interview family or community members about their immigration experiences or family history as part of a social studies project or to create information leaflets on how to care for younger children and support them with their schooling. Teachers and students could take the time to write letters or short messages like you would on WhatsApp to grandparents and other family members living in other cities or countries. The possibilities are endless and clearly important to valuing and recognizing the experiences of children outside of school.
Many kids play a lot of video games and use social media when they are stuck at home
Children talk about videogames a lot. Some kids love Pokémon and others love Fortnite. Multi-player games where you can interact with your peers in different languages are popular. Videogame usage has been on the rise during the pandemic with multiplayer games that allow for social interaction showing the most increase. What else are you going to do when you're stuck at home and can't go to school?
Instead of getting annoyed about all the screen time your students have been engaged with over the past year and a half, think about how you can integrate it into your teaching. This could mean more screen time playing games like Minecraft. Multiplayer games can be written and talked about as part of children's literacy programming even if they cannot be played during class. For example, Fortnite allows for the creation of new characters through clothing choice, dance and movement. Finding ways to bring these games into the classroom will not only increase engagement with literacy programming but also relevance.
Besides video games, kids are using a lot of social media. Before the pandemic I didn't even know about the video chat feature on Messenger. My son used it a lot this past year to connect with his cousins. The filters were the biggest hit for both of us. WhatsApp is also a popular application for communication. It allows families to talk using Wi-Fi so they can stay in contact without long distance fees. Depending on the current trend or what's available, the social media children use will change. Use social media like Flipgrid in your classroom. The comments feature allows kids to interact and is a great space to bring in their multilingualism. Finding ways to bring WhatsApp or other social media platforms that your students use a lot into your literacy programming will make it more engaging and relevant. It could also help you communicate with families, as many people use WhatsApp extensively to talk to each other particularly if they are in different parts of the world.
Translanguage as much as you can
Kids feel better about their writing in classrooms when the teachers translanguage. What do I mean by that? The students hear and see lots of different languages all the time. English-only practices that are highly prescriptive lead to a lot of anger and shame about reading and writing. Many students will have been using languages other than English at home during the pandemic. These languages are an essential part of their literacy practices.
This is not a one-off strategy. Do it whenever you can to make your literacy programs authentic and reflective of your students' previous experiences. Lots of kids don't know how to read and write using their multilingualism. Have them work together in same language collaborative groups to teach each other how to write words, phrases and sentences in their spoken languages. Have them compare their languages. This work may need to be done virtually or in socially distanced groups due to COVID-19 protocols. Don't be afraid to give up some authority as you learn to embrace the students as language experts in your classrooms.
Food needs to be plentiful and available
Food may have been scarce for many kids. We know that foodbank use has been on the rise during the pandemic. Food and its availability will continue to be important to many of our students. Having food readily available can create a sense of calm and help build community in your classroom. Have a table by the door where students can get snacks as needed. Build in some COVID-19 protocols around retrieving food from the table and waiting until you are seated at your desk to eat quietly. This suggestion costs money. Many schools have snack programs already. We can advocate for them to be expanded or modified. Our kids need to have consistent access to food to be ready to learn. Governments need to fund extensive food programs in our schools.
Working through trauma from an anti-racist perspective
As teachers, we are very concerned about our students' mental health. We can bring trauma-informed practices into our classrooms. Newcomers in ELD programs come from experiences of war, religious persecution, racism and poverty. All your students have now been through a pandemic and will have varying levels of trauma due to this experience. Racism, Islamophobia, poverty, illness of family members are all traumas students experienced over the past year and a half.
Teachers are beginning to understand the importance of bringing trauma-informed practices into the classroom. Understanding our students as having experienced past traumas is important but so too are present traumas the children might be experiencing like a lack of food and housing, racism and erasure of their languages. Trauma-informed practices include centering the children in their bodies and creating quiet spaces of retreat when feeling overwhelmed by emotions. Think about taking children on community walks. Have students take the lead as they show you and the class places that have been important to them both before and during the pandemic. Using trauma-informed practices from an anti-racist perspective might mean having students take on leadership roles to dismantle English-only policies and address and challenge racist stereotypes in the school. We can't pretend that Canada is a safe place for all. The effects of colonialism on Indigenous communities, anti-black and Asian racism and Islamophobia are becoming more and more obvious. Together, we can work with our students to recognize and acknowledge diverse experiences and challenge dominant narratives.
Some final take-aways
One of the sad truths that came out of my research is that teachers feared that newcomer children with emerging print literacy who are placed in mainstream classes would then be placed in special education classes. Try not to jump to conclusions about children's abilities. Give them time and space to grow as you work towards accelerating some of their learning in literacy and numeracy.
This article is not an attempt to find the silver lining in what have been difficult years for all of us. Instead, I am asking that we reframe our thinking about children. Instead of focusing on what they are lacking we instead meet them where they are and incorporate their new experiences into our classrooms. Yes, many of the students may need more intensive independent and guided reading and we're all trying to figure out how to teach math with kids with highly varying abilities and knowledge of the mathematical processes. We also need to create programming that is critical, incorporates higher level thinking and meets our kids where they are. Our students' worlds are very much about anti-racism, family, multilingualism, social media and video games right now. This is where we can connect with them.
Katie Brubacher is a member of the Peel Teacher Local.
Katie's research was supported in part by funding from the Social Sciences and Humanities Research Council as well as the ETFO Women's Scholarship.
---
Translanguaging Resources