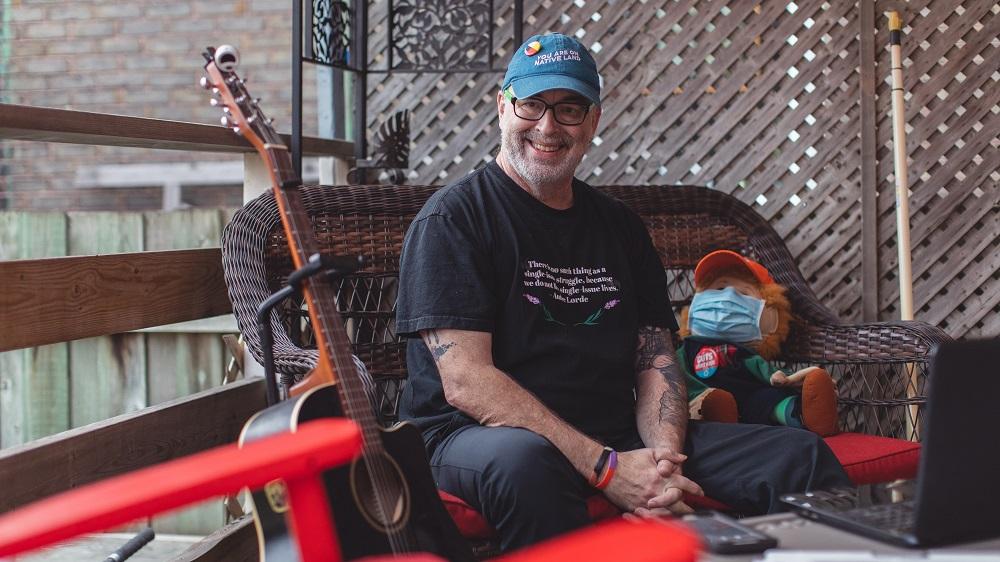 FEATURE
Equity and Human Rights in the Virtual Classroom
Although I sought my Grade 5 virtual assignment under a family medical accommodation endorsed by our physician, it was a position I wanted and would have volunteered for. My experience of emergency remote learning last spring had been satisfying. As the teacher-librarian and drama/dance teacher, I had to re-imagine my assignment in a way that made sense for a truncated teaching day directed by homeroom teachers. Instead of books, I loaned myself to virtual classes to provide support. I helped Grade 5 students in two classes with their written work and collaborated with one teacher on her lessons. I found time to make a read-aloud video each day, which usually included me, instrument in hand, singing songs that my students had learned in the library. And I passed on tech tips and workarounds to my colleagues.
A question persisted for me throughout the summer as I prepared myself for virtual education of the size and scope we have now realized: How do we do this equitably? In bricks and mortar schooling, we can sometimes simply hand needed resources to children who don't have them. We can learn from our students' stories and provide culturally relevant programming. We can observe the impacts of our instruction in real time and make adjustments. In a virtual classroom, this entire process needs to work differently.
There was a simple place to start. Over my years in the library, I've acquired a number of items that I put on display to mark various observances – from Halloween to Kwanzaa, Pesach and Pride. Simply acknowledging special days is the low-hanging fruit of equity and diversity work, but it's a starting point.
Just prior to the first day of learning, I made a welcome video for families. The video opened with my camera panning our back-to-school display as I narrated my greeting to children and parents. With leaves strewn about, a stuffed Cat in the Hat and an old puppet of mine called "Jackie" at opposite ends of the cabinet wearing masks and denoting our in-school classmates and colleagues. In the middle, a small maskless stuffed "bookworm" cradled an iPad, denoting our learners at home. I then pulled the camera back to reveal the permanent backdrop to my display, consisting of a Progress Pride flag and a Black Lives Matter banner, to which I would later add a medicine wheel tapestry.
The messaging was intentional. Our school year began amidst the backdrop of two inescapable global realities. The first was the novel Coronavirus pandemic whose effects have been felt most acutely by members of equity-seeking groups. Alongside this reality has been a worldwide outcry from the streets against police violence, the effects of which are felt most acutely by Black and Indigenous people, people of colour, people who struggle against income inequality, with mental health issues, or are queer or trans.
Several years ago, in a speech to members of my local, author and journalist Desmond Cole used the term "dangerous intersections" to describe what happens when Blackness or brownness converge with mental health, income inequality or gender. It has been ever thus, but the events of this past summer have amplified these inequalities and inequities in ways many teachers feel obliged to acknowledge. Thus the displays I put up, photograph and discuss with children – including, so far, Halloween, Orange Shirt Day and Islamic Heritage Month – are presented quite literally against the backdrop of these dual pandemics.
However lofty the vision, the realities of day-to-day school are never very far away. During our first week online, my colleagues and I received a late-night email from our administration, which included the following: "As per the Elementary Operations Handbook – Opening Exercises, The instructional day will begin with the Land Acknowledgement followed by O Canada."
Truthfully, I had begun each morning with the TDSB Land Acknowledgement; however, I had run afoul of my patriotic responsibilities. While the anthem is a convention of schooling, I was at pains to see how it might be an administrative priority when so many issues remained unresolved – children and teachers awaiting devices, parents struggling with logins and families still without teachers. On a personal level, I've also struggled with the anthem ritual. As someone who works in a publicly-funded secular environment, I chafe at the lyrics.
There was an equitable, technology-based solution that acknowledged the different feelings people might have about mandatory demonstrations of patriotism, particularly when they are enforced within our homes. I made a slideshow of opening exercises. I embedded an audio file of an instrumental version of O Canada on a slide that also displayed French and English lyrics. My preamble: "Everyone's choice to sing or not to sing is respected and supported. Everyone's choice to remain seated, to stand or to take a knee, is respected and supported." Suddenly, I find that for the first time in two decades, I am completely at ease honouring this moment with my students, a moment that seems to pass without protest or mischief. I will carry this routine back to school with me whenever I'm able to return.
I realized a morning exercises slideshow might reveal other possibilities in a media-rich environment. As students trickle in each morning, I share a slide of our Song of the Week. While a YouTube video plays, instructions are displayed asking students to turn microphones off, sit comfortably, breathe and enjoy the song. Thus, students needn't worry about being "late" or interrupting class, as they or their parents try to log in. A recent selection was Billy Porter's rendition of the 1966 protest anthem "For What It's Worth" by Stephen Stills. Porter is a Black gay man who has starred on Broadway and on the FX series Pose, a drama set in the 80s whose cast and crew are predominantly queer and trans people of colour.
The slideshow concludes with a Thought for the Week. There are no limits to the diverse thinkers whose ideas we can immerse ourselves in. This staple of in-school morning announcements can now be presented with illustrations or even a video. We need not just listen to the thought recited by giggling student announcers in a busy office. We can look at it, feel it and pause to reflect on our reactions to it.
Still there have been struggles. If I had a math textbook from school at the beginning of the year, copyright infringement would have prevented me from sharing the content online. Even if I could, scanning the pages of a book would have been time consuming and impractical. As we awaited word from administration about subscriptions to online educational sites, many of us cobbled together math lessons from reproducible worksheets on free sites. In my case, I chose to copy and paste the text of these, with attribution, into Google Documents that students could work on and return. A clumsy process to be sure, but I imagined what it might be like in a household where children were working on iPads, not computers, and did not have access to a printer or scanner. Then as now, I look for ways students can work on a single tab or screen, thus avoiding distractions. In fact, I base my practice on that assumption that everyone I teach has limited tech.
What I found as I was perusing these activities came as no surprise. They are free for a reason. Free educational resources on the internet are not typically a reserve of cultural relevance and sensitivity. Math problems based on money tilt towards profit and the acquisition of goods as inherently virtuous. In these sorts of word problems, a child raises funds to buy a bicycle by saving their Christmas and birthday money, mowing lawns and opening a lemonade stand. As I read these problems, I couldn't help but think of suburban family television programs that populated my childhood viewing.
Then there's language arts. Teachers need piles of levelled readers to facilitate guided and independent reading. Dipping into my own resources, I purchased an online reading program. At least with a large collection of books to read on screen, students would have some choice. As I slowly reach the point where I can create five groups of seven students apiece for guided reading each day, one of the issues I intend to pursue is how bias within a piece of writing makes it less accessible and desirable to the reader.
There was another workaround to the issue of providing equitable, relevant reading material. As a longtime teacher, I know the importance of library and classroom read-alouds. Early on, I resolved that I would make off-hours visits to my school library to restock my supply of literature, and I must acknowledge the support of my administrator and colleagues in helping me do this. At any moment, I have upwards of 150 picture books from school at my disposal. I would like to think this consideration is being extended to all educators who have been reassigned to work from home, and is available to our newly hired colleagues who are teaching virtually, as well.
In making my early selections of picture books last spring, I decided that, now more than ever, our books needed to be about and by writers and characters who are Black, Indigenous and people of colour. These titles must not be set aside for specific times of year like Black History Month in February or Asian Heritage Month in May or Indigenous Heritage Month in June. The final $600 of my homeschool library budget last spring went entirely to one vendor, a favorite of mine, specializing in titles about Black culture and history. My shelves at home are also packed with books about women and girls, income inequality and queer and trans folk. Five weeks in, no child has protested. Nobody has asked, "Where are the books about white people, Mr. Nore?"
Sharing this material over a livestream proved complicated at first. Using an app called EpocCam, which works for Android and iPhone on a Mac or PC, I can convert an iPhone into a webcam or document camera. Since it connects through the WiFi in my home, I can move the device around my desk as needed. The app and a gooseneck stand cost me about $30, compared to the $300 I might have spent on a document camera.
Let's talk about costs for a bit. And privilege. I've maintained a private office space at home for decades. Because technology plays a big role in my day job and in my other interests, I didn't mind spending extra money on the items that help me succeed as a virtual teacher. These have included a second large monitor enabling dual display on a Mac Mini, a podcast microphone on a scissor arm, a quality chair that I spend at least 10 hours a day in and a repurposed conference table that I modified into an ergonomic workstation. It's all gear that I use in my private time.
I keep the following in mind as I move towards assessment and evaluation: many of our newly-hired members are half my age, making half my salary and operating their learning studios on a Chromebook in their bedroom. Other members who didn't ask for this assignment grapple with these potential costs as well. Our students have, in many instances, had to do their schoolwork on an iPhone or an iPad, while they await a more suitable device. Their learning space might be the kitchen table at home, the coffee table at Grandma's or an office in the back of the family-owned small business. Their parents, guardians and caregivers may be sprinting from one device to the next to get multiple children started for the day. Some of my students have a parent at home because of a job loss during the pandemic or because work outside the home poses a danger to health in the family. When we evaluate our students' performance – or our own – we are evaluating privilege, or the lack of it.
Thoughts of privilege and access are on my mind when I communicate with parents. I got my start in the 80s teaching EAL and later organizing adult literacy programs. I know that bombarding families with emailed information is fraught, particularly in an era when our inboxes are flooded with links and pdfs. For some messaging, I've made short videos for parents on everything from an inexpensive microphone set-up to mental health online. My hope is that parents can see and hear what I'm talking about. About five weeks into our virtual journey, my weekly email now links to a blog created for parents. In this way, they have an archive of past communications. I've chatted with parents on Google Meet as I would in the schoolyard. As I put more information out, my inquiries from parents have been fewer and far less distressed.
As tired as I am some days, I remain optimistic. Despite the tech failures, the administrative challenges, not to mention an education minister whose reassurances never manifest themselves in our classrooms, I do find joy in my work. And hope. I pick up my banjo and play an old Pete Seeger tune and, although our voices don't sync perfectly via livestream, we are able to do something our classmates and colleagues cannot do in their home school. I put on a video of Cha Cha Slide and try to dance along with my class without bumping my head on the basement ceiling. The kids and I do daily mindful breathing to a piece of meditative music. They show their toys and pets to me and to each other. I promise them that, yes, my wife – a volunteer animal rescue worker – will come back down to the office with one of our dogs in her arms for a Q&A about canines. What would school be without guest speakers?
Our commitment to the rights of our children and families, as well as our colleagues, must be renewed amidst the times in which we find ourselves. My best guess is that virtual schooling may be with us to some extent in the 2021-22 school year. My hope is that education stakeholders push hard for an online model that is founded in the community of a teacher, a class of students and their families. Our work from home may be less-desirable than in-school teaching, but with real tangible support, it can remain ethical, energized and equitable.
Gordon Nore is a member of the Elementary Teachers of Toronto.
---
10 Great Books
The Boy & The Bindi by Vivek Shraya (Arsenal Pulp Press, 2016)
Jingle Dancer by Cynthia Leitich Smith (Morrow Junior Books, 2000)
Speaking Our Truth by Monique Gray Smith (Orca Book Publishers, 2017)
WOKE: A Young Poet's Call to Justice by Mahogany L. Browne (Roaring Brook Press, 2020)
POWER POEMS for small humans curated by S. Bear Bergman (Flamingo Rampant Press, 2019)
Am Enough by Grace Byers (Harper Collins, 2018)
Moondragon in the Mosque Garden by El-Farouk Khaki (Flamingo Rampant Press, 2019)
Don't Touch My Hair by Sharee Miller (Little, Brown and Company, 2018)
Queer Heroes: Meet 53 2SLGBTQ+ Heroes from Past and Present by Arabelle Sicardi (Wide Eyed Editions, 2019)
Young, Gifted and Black: Meet 52 Black Heroes from Past and Present by Jamia Wilson (Wide Eyed Editions, 2018)