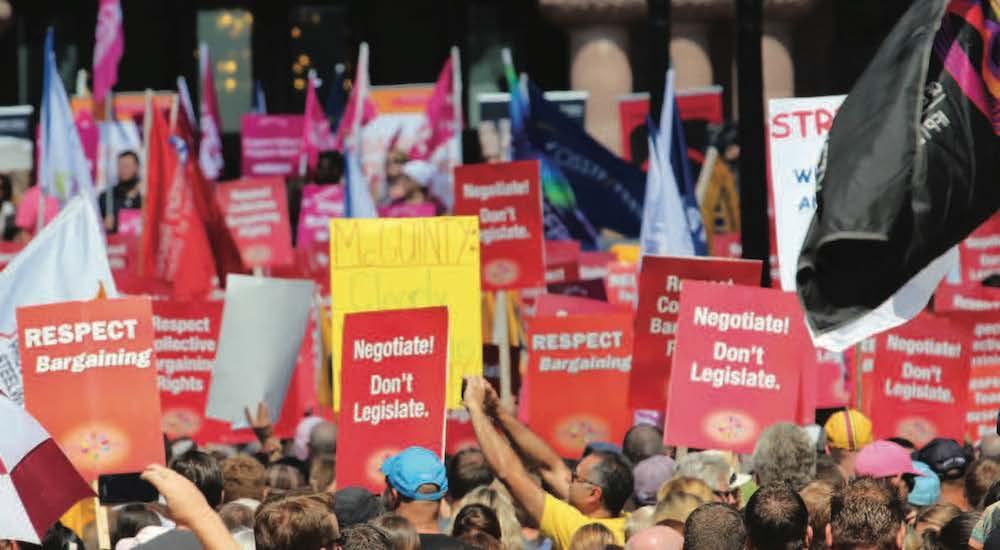 FEATURE
ETFO's 2019 Round of Collective Bargaining
ETFO has a long history of advocating for and negotiating significant improvements to educator working conditions and student learning conditions. There's no doubt that our collective efforts have helped make Ontario's public education system one of the best in the world.
Working daily in the ETFO provincial office or in any one of its 76 locals serving 83,000 members, it's easy to forget that not all members have the time to reflect on what it means to be part of a union.
Given that your collective agreement expires on August 31, 2019, it's a good time to ask what your union has done for you and other ETFO members and what it will do during the 2019 round of collective bargaining.
You may say that the day-to-day pressures of being an educator leave you with little time to think of anything beyond how you're going to get through the week. Or you may have turned to ETFO to help resolve professional issues, engage in professional learning, network with colleagues or pursue a passion for equity and social justice to help get you through your week, month or year.
Whether you're actively engaged with the union or not, ETFO is a key part of your professional life. In an era when 40 percent of Ontario working people are in low-paying and precarious jobs, being a part of a progressive union with a proven track record of defending and improving working conditions, wages and benefits is a powerful thing.
Bargaining Gains for Members and Students
It's common knowledge that the eight-hour work day, pensions, minimum wages, pregnancy leaves, employment standards, equal pay, health and safety legislation and other initiatives were first negotiated by unionized workers and then extended to others. ETFO's predecessor unions had a big hand in those improvements and in other struggles during the 20th century.
In the last few years, ETFO has negotiated significant improvements in salary and working conditions. For example:
During the 2012 round of provincial bargaining, ETFO negotiated a Memorandum of Understanding (MOU) that eliminated the two-percent salary penalty imposed on members in 2008, re-establishing fairness in compensation between ETFO members and other public school teachers;
The 2012 bargaining round also saw Supplimental Employee Benefits (SEB) for pregnancy or parental leave for all qualifying ETFO members increased to eight weeks at 100 percent salary;
ETFO's 2014-2017 Teacher/Occasional Teacher Central Agreement enshrined a teachers' right to use professional judgement;
The 2014-2017 Central Agreement and the 2017-2019 Extension Agreements resulted in year-over-year salary increases for all ETFO members through the course of those agreements;
ETFO's 2017-2019 Education Worker Central Agreement included $2 million dollars to support paid professional learning for DECE, ESP and PSP members; and • To address the significant issue of violence in the classroom, ETFO's 2017-2019 Extension Agreements required school boards to provide members with education and training during Professional Activity days around reporting violent incidents.
Improving your working conditions is also tied to improving student learning conditions. As part of the 2017-2019 Extension Agreements, ETFO
negotiated Kindergarten class size caps;
closed a loophole in class size regulations that allowed 13 school boards to have larger class sizes in grades 4-8 than the average of 24.5 students;
negotiated $50-million to hire thousands of additional permanent elementary special education teachers;
ensured the creation of a $39 million Priorities Fund to hire additional permanent elementary teachers to support early years' special education, and ELL, Indigenous and at-risk students. The fund was also used to provide one day of paid professional learning for ETFO occasional teacher members for each year of the two-year agreement; and
made sure Individual Education Plans (IEPs) created and/or revised within the first 30 instructional days of the school year will serve as the IEP update and distribution for the progress report card.
What's Ahead for the 2019 Round of Central and Local Bargaining
This year is going to be challenging for educators and for public education.
All education sector collective agreements – including those of ETFO members – expire on August 31, 2019. Teaching and non-teaching staff salaries and benefits make up 75 percent of the Ontario public education budget, so we need to be prepared for the possibility that the government will want to discuss savings at ETFO's 2019 central bargaining tables.
The Ford government has already begun cutting public education as part of its goal to find four cents on the dollar in savings across all public services. This goal would mean a devastating $1 billion in cuts for our schools. Given the willingness of the current government to reshape curriculum, eliminate funding for school repairs and downsize programs for students without consultation, the upcoming bargaining round is going to be a challenging one for ETFO members.
But this won't be the first time that ETFO members have faced a tough round of bargaining with the Ontario government and emerged stronger and more united. Take a look at the sidebars accompanying this article and you'll see what your union and its predecessors have accomplished for ETFO members past and present.
ETFO's goals for the 2019 round of central bargaining have been developed based on the responses that tens of thousands of members submitted during the member survey conducted last November. Those goals can be found at etfocb.ca, where you can also find other information to keep you informed, engaged and mobilized during the 2019 round of bargaining. You can check out the member campaign as it unfolds by reading ETFO's Collective Bargaining eNewsletter and visiting ETFO's bargaining website at etfocb.ca.
Ask What You Can Do For Your Union
ETFO and its members have always worked together in times of adversity to stand up for high-quality public education.
As we saw during our fight against Bill 115 and our opposition to the repeal of the 2015 Health and Physical Education Curriculum, when ETFO members stand together for fairness and stand up for students, we win public support. That can go a long way in advancing public education issues we all believe are important for the future of our profession and our students.
ETFO's power to affect positive change comes from the collective strength of our members. Your professionalism, your willingness to stand up for the rights of educators and students, your advocacy in your school and community and your voice in defending the conditions that make Ontario's education system one of the best in the world are what have made the difference.
Some call it solidarity. Others call it standing together for what's right. Whatever you call it, it's about acting and speaking with a common purpose. That's why for ETFO's twentieth anniversary this year, we've adopted a slogan submitted by one of ETFO's 83,000 members: "United. Inclusive. Strong."
As we enter into collective bargaining this year, ETFO will work to ensure that your professionalism and collective agreement entitlements are respected. Whether it's through collective bargaining, political advocacy or the promotion of social justice, ETFO will continue its efforts to build better schools and an exemplary public education system. Ask what you can do this year when called upon by your union to be a key part of these efforts.
It's your future. We invite you to play a vital role in shaping it during this bargaining year.
Valerie Dugale and Teresa Morrison are executive staff members of ETFO.
---
ETFO Bargaining and Lobbying Milestones
2004: Following extensive lobbying by ETFO, the government introduces a cap of 20 students on primary class size.
2005: ETFO negotiates 200 minutes of preparation time and caps on supervision time in every teacher collective agreement.
2009: ETFO successfully lobbies for a DECE and full-time teacher in Full-Day Kindergarten.
2011: ETFO organizes and welcomes 10 DECE locals into its membership.
2013: ETFO negotiates the elimination of the two percent salary penalty imposed by the government during the 2008 round of bargaining.
2015: ETFO's Teacher/Occasional Teacher Central Agreement enshrines teachers' rights to use professional judgement in assessment and evaluation of students.
2016: ETFO wins its Charter challenge with the court finding that Bill 115 violated members' rights to meaningful collective bargaining.
2017: ETFO negotiates a cap on Kindergarten class size and ensures class size averages for grades 4 through 8 do not exceed 24.5 students in all school boards.
2017: ETFO negotiates investments in special education and a Priorities Fund to hire more teachers to provide support for early years' special education, Indigenous students, at-risk students and English language learners.
Wins in the Early Years
ETFO's predecessor organizations, the Federation of Women Teachers' Associations of Ontario (FWTAO) and the Ontario Public School Men Teachers' Federation (OPSMTF) worked throughout the 20th century with the Ontario Teachers' Federation (OTF) and other labour groups to win signifi cant gains for educators.
1928: A standard contract for public school teachers.
1944: Mandatory membership in FWTAO and OPSMTF.
1946: OTF approves a pay equity policy for women and men. Ontario passes the Pay Equity Act in 1987.
1955: OTF endorses a maternity leave policy. Ontario legislation follows in 1970.
1973: After 100,000 teachers walk out, Ontario passes an act giving teachers the right to free collective bargaining and the right to strike.
1981: FWTAO helps achieve equality guarantees for women in the new Canadian Charter of Rights and Freedoms.
1991: Teacher demonstrations lead to an equal teacher-government management partnership for the Ontario Teachers' Pension Plan.