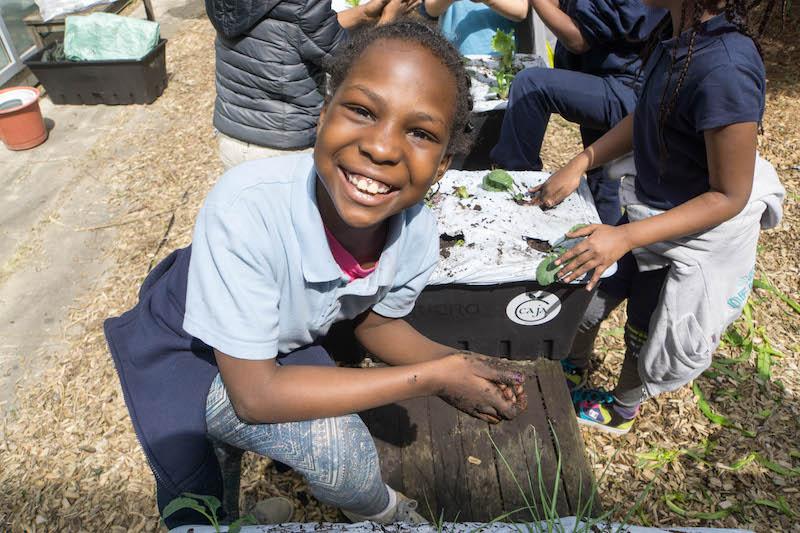 FEATURE
Food for Thought: How Our School Garden Inspired an Inquiry Into Food Security, Sustainability and Health
On a rainy day in May of 2017, the staff and students at Burrows Hall Junior Public School in Scarborough welcomed the team that would make their two-year dream of planting a school garden a reality. Three organizations, Action Against Hunger, The Growing Connection and George Brown College, worked together to pilot the Generation Nutrition project that would enrich our learning about food in ways we could have never imagined.
Generation Nutrition addresses the issues surrounding food security by bringing mobile food gardens and food justice education to schools and equipping young people with the leadership skills they need to create sustainable solutions to community challenges. While being paired with other schools across Canada and the world, students learn how to grow their own food, look at how food affects their nutrition and health, explore food systems and Indigenous food sovereignty and participate in a cooking field trip with professional chefs.
We planted a garden made up of boxes of vegetables inside an empty classroom and every single student got their hands dirty making a school dream come true.
How We Came to Plant a School Garden
Meaningful learning is often inspired by a question based in everyday experiences. Two years prior to piloting the Generation Nutrition project, I was teaching a math lesson to grade 3 students using the book If the World Were a Village by David J. Smith and Shelagh Armstrong. The class was exploring food availability around the world. As we delved deeper and looked at statistics, students were shocked to learn that hunger exists in Canada and that this reality includes their own neighbourhood. As part of their project action plan, they decided to hold a food drive to support a local food bank and think about how food insecurity works. A question fuelled their inquiry: If Canada is a rich country and one of the best places to live in the world, why do so many Canadians experience hunger and need to use food banks?
Students co-created a definition of food insecurity – to be worried about food or have difficulty buying healthy or enough food and researched facts about food banks. They were surprised to learn that, according to a 2014 report from PROOF, a research group looking at food insecurity in Canada (proof.utoronto.ca), 12.6 percent of Canadians worried about being able to feed their families. Most people struggling to afford food, however, did not use food banks.
In First World Hunger Revisited: Food Charity or the Right to Food, Graham Riches and Valarie Tarasuk report that "The ineffectiveness of charitable food banks is masked by their high degree of public legitimacy. Increasingly, they have become embedded within popular culture and now corporate culture as practical compassion and a commonsense response to household food insecurity and the country's broken social safety net." The truth is we use charity to remove the societal guilt we feel toward people living in poverty. Presenting this reality to elementary students without crushing their kind hearts was a challenging though necessary step in our journey to broaden our understanding of hunger and food insecurity.
This new learning developed into a powerful lesson aimed at teaching financial literacy by having students work within a budget to purchase enough food to sustain themselves. Students were given scenarios that recreated the reality facing too many Canadian families, not enough money to purchase the most basic food items to live a healthy life. It was difficult to grasp why food is so expensive and unavailable to so many people around the world. The World Food Programme estimates that one in nine people worldwide does not have enough food to eat. Feeling frustrated, students came up with a second question: Does the world produce enough food to feed the entire population and, if so, how did hunger become a problem in both developing and First World countries?
Our extensive research led us to an undeniable conclusion: the world produces more than enough food to feed the entire population. So how did hunger grow into a worldwide problem? The World Food Programme outlines six reasons, all of which are consistently mentioned as systemic issues by experts in the field of hunger and food security.
Poverty Trap: People living in poverty cannot afford to purchase healthy food.
Lack of Investment in Agriculture: Many developing countries lack the roads, warehouses and irrigation systems that would help grow food to overcome hunger.
Climate and Weather: Natural disasters and long periods of drought have calamitous consequences in developing countries. Climate change is threatening the world's fertile farmland and deforestation accelerates the erosion of land used for growing food.
War and Displacement: Conflicts disrupt farming and food production. Fighting also forces millions of people to flee their homes, leading to hunger emergencies. In war, food can become a weapon as opposing sides starve each other into submission.
Unstable Markets: Roller-coaster food prices make it difficult for the people to purchase food consistently. Families need access to adequate food all year. When prices rise, consumers often shift to cheaper, less nutritious foods.
Food Wastage: One third of food produced (1.3 billion tons) is never consumed. This represents a missed opportunity to tackle global food insecurity.
The students and I gained a perspective that both challenged and supported our growing understanding of food and hunger. This culminated in a large-scale action plan to take our inquiry further. During a class discussion, an idea arose that would take two years to materialize: using a school garden to explore how food impacts our lives. A meeting with interested staff members proved that we all believed a garden could spark endless opportunities to learn and share our understanding with the school community.
Working with Generation Nutrition
Generation Nutrition proved to be one of the most rewarding experiences we could have hoped for. Along with providing the necessary funding to purchase the planting materials and our vegetables of choice for the garden, Paula Tenaglia and Danny Glenwright from Action Against Hunger also provided resources on the topic of hunger along with support to guide us through each step of our journey. They helped us explore topics related to hunger, food security and health. We visited farms, learned financial literacy and took the vegetables we had grown to cook with professional chefs. The learning was invaluable to our continued understanding of the role food plays in our lives.
In our community over 90 percent of families are new to Canada and food insecurity is on the rise. The help to plant our school garden came from Robert Patterson and Christopher Wong, co-partners from The Growing Connection, an organization that mixes decades of local and international hands-on community engagement with services that provide everything necessary to grow a sustainable garden in cajas, Spanish for boxes. Their vision is a world in which every family, school, business or institution can choose to engage in growing fresh food right at their doorstep.
We planted a garden of 40 boxes with various vegetables, herbs and fruit. Using the knowledge and experience of everyone in our school community, we learned how to grow fresh, delicious food. During recesses, students picked vegetables for a snack and harvested food that was sent home to share and cook with their families. George Brown College supported our learning through the Days of Taste program by giving students the opportunity to visit local farms and cook with chefs at the School of Culinary Arts.
A Critical Point in Our Journey
We have reached a critical point in our journey into understanding more deeply how food or lack thereof impacts us all on this planet. After analyzing and making sense of all the learning our school garden has inspired, we feel that it is time to take the next step and look at how to solve the problem. Our current question is a tough one to take on for any expert, let alone elementary students. How can we solve the problem of hunger on a local and global scale?
We have come to believe that affordability of food is fundamental to solving the issue of hunger. Instead of looking at it through the framework of charity, students are realizing that access to healthy food must be recognized as a basic human right. In First World Hunger Revisited: Food Charity or the Right to Food, Graham Riches places the responsibility on the government. "It is primarily a matter of federal and provincial economic and social policy, income distribution and public health," he explains. One of my students put it simply: "If we have the right to life, how can we not have the right to healthy food, which is the most basic thing we need to live?" Graham Riches goes on to add, "We have to keep engaging the issue, better informing the public and listening as well. If we're saying food banks are a necessary evil, maybe we should deal with the evil and change the conversation from food charity to the right to food and what responsibility governments have for this."
Students have now begun to open their minds to new possibilities. While we are still committed to supporting our local food bank, we plan to contact our MP, MPP and local councillors to get the conversation started around our policy-makers' responsibility to address the systemic issues of food insecurity by recognizing food security as a basic human right for all Canadians. The students have begun to see how the right to healthy food can be addressed by creating policies that reduce poverty. In fact, the advocacy organization Food Secure Canada has created the campaign "Eat, Think, Vote," which calls for the creation of a national food policy that includes healthy school food, affordable food in the North, support for new farmers and work towards "zero hunger." We are now in the midst of one last question: If there are ways to address the issues of hunger and food security, are we willing to do what it takes to solve them?
Carmen Oliveira is a member of the Elementary Teachers of Toronto.