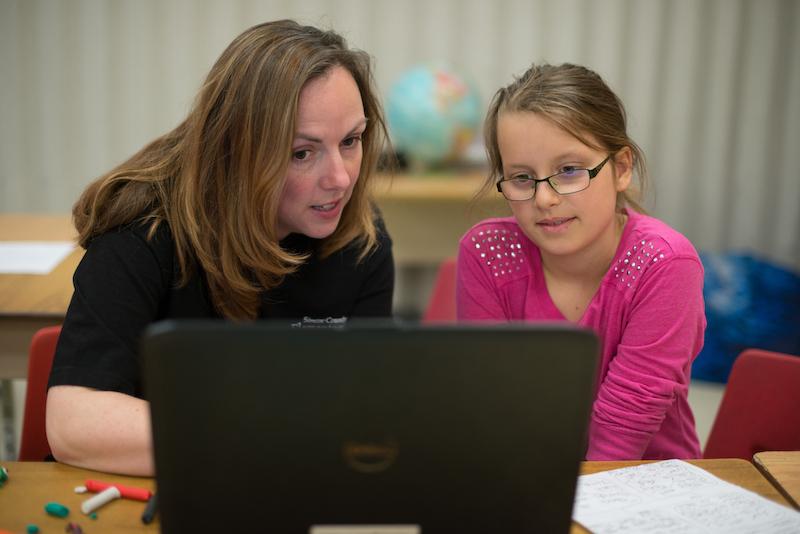 FEATURE
Several years ago, I was privileged to work with the Simcoe County District School Board Tech-Hubs. This program opened the door to creative thinking about literacy and technology that invigorated my passion for teaching and my students' passion for learning. I created the Forest of Technology project as a way to use technology to enhance students' literacy skills through the Forest of Reading program.
The Forest of Reading is a program that is run by the Ontario Library Association. It incorporates eight reading programs for different age groups to encourage a love of reading. More than 250,000 students participate every year through their public library, school library or on their own. My class was enrolled in the Silver Birch Express, Silver Birch Fiction and Silver Birch Non-Fiction programs.
When I first started this journey, I was deeply inspired by how Jill Shipley, a now-retired teacher-librarian from Codrington Public School, worked with staff to integrate the Forest of Reading program throughout the entire school. Ian McCallum, the Grade 8 teacher at Codrington, told me about teachers discussing the books at the Christmas party, about the volleyball team members discussing books on their way to tournaments and about primary teachers discussing authors and themes in the hallways with intermediate students. I was amazed by how a whole school came together over these books. I was so inspired that it moved me to think about how this same philosophy could be expanded even further with technology. In planning my own inquiry for literacy and technology, I realized that if we could use technology to capitalize on the over 250,000 students reading the Forest of Reading books at the same time, our students could benefit by seeing what other schools and students were doing, and share and collaborate with them as well.
---
Integrating Technology With Literacy
When the project originally began, one of the first things I did was create a Twitter account (@forestofreading). We followed all of the authors, illustrators and publishers. We even got the Grade 8 class at Codrington to set up Twitter accounts. The results were amazing! The students gravitated to Twitter to discuss the books. It was exciting to see students having their ideas validated and acknowledged by "real" authors! Students who hardly ever read books began to read and communicate their ideas simply because interacting over Twitter felt natural and made it easy to connect with others. Nothing was more gratifying than seeing Grade 8 students talking about books over Twitter on Friday nights. I just couldn't help but think, "Wow… how many students could benefit from the power of social media if it was set up for them in meaningful ways? What if reading could be fun, and not just done for a grade or a mark?"
Last year, I worked with my Grade 4 students to embark on additional tasks to integrate technology with literacy. We called our project the Forest of Technology and with Marie Swift, the Technology Itinerant Resource Teacher, we worked to build a new blog website at forestoftechnology.blogspot.com. We used the Silver Birch books as a catalyst to engage in Google Hangouts, slideshow and Green Screen presentations, blogging, research and many other cross-curricular connections. It was very inspiring to make literacy meaningful for students in this way.
One Silver Birch Express book we read together as a class was entitled From There to Here by Laurel Croza and Matt James. This was a book about a family who moved across Canada from Saskatchewan to Toronto. It tied in beautifully with our social studies unit on the regions of Canada. We were also able to connect this book with the arts, science and language curriculums. We began by tracing and painting a map of the regions of Canada. Each student then researched an endangered animal from each region and painted it in the x-ray art style of Norval Morrisseau. We finished by creating a "ThingLink" with a visual interactive media presentation of the key features of the regions of Canada.
Two Silver Birch fiction books inspired us too. The Creature Department by Robert Paul Weston was about monsters that created many innovative ideas for the DENKi-3000 – the world's eighth-largest electronics factory. The other book Me & Mr. Bell by Philip Roy was about solving problems with creative solutions. Both books were the inspiration for us to develop growth mindsets and engage in Makerspaces and Genius Hour. Makerspaces are essentially creative spaces with different materials and tools for students to invent, create and learn new things. Genius Hour is where students spend an hour a week exploring their own passions and learning about anything they are interested in. Students studied artificial intelligence, how electricity works and the harmful effects of smoking. Other students contacted authors and other experts, and conducted surveys and interpreted results with Google Forms. We even had the opportunity to share our learning and projects over Google Hangouts.
---
Samr Model
All technology-related activities can be viewed through the lens of the SAMR Model, created by Dr. Ruben Puentedura. We kept this model in mind as we co-created the Forest of Technology processes this year with each other and our students.
S – Substitution: Substitute reading reflections using pencil and paper with a Google Form or a blog post.
A – Augmentation: Add pictures, comments and audio to enhance ideas (e.g. Twitter for sharing ideas).
M – Modification: Obtain feedback from authors, illustrators, other teachers and students to modify activities.
R – Redefinition: Redefine the traditional assignment, whereby students innovate and create something brand new altogether. For instance, students created their own assignment as a book trailer, which was a new book that they were inspired to write on their own.
Soon, we were having authors connecting with our original blog, students were reading blog posts of other students in other school boards, and students were creating projects, slideshows and book trailers with iPads and sharing them. They were connecting, collaborating, creating and building literacy skills. I was floored by what was taking place.
---
How Technology Enhanced The Forest Of Reading Experience
I have seen that with the integration of digital technologies, we can learn new skills in different ways as they pertain to literacy. The assignments I have been able to work on with students were co-created by the students and incorporated the skills that enable students to connect with literacy in new and relevant ways.
Technology enhanced the process of sharing Forest of Reading books and ideas with authors, peers and families. It facilitated conversations about books that arose not just in the classroom or at recess, but also at home, over Twitter or email with authors, between classrooms on a blog, or in Google Hangouts with students across the county or province. The integration of technology was a great way to engage students and make them feel more connected with their reading.
I learned that if technology can help students engage and connect, it can make reading more meaningful. This in turn can lead to students being more successful in school and in situations that occur outside of school. We can harness technology to make literacy more engaging and relevant to students of this generation.
Literacy is about so much more than helping students read and write. It is about helping students make meaning out of any kind of text and gaining the skills that will help them transfer their literacy to new situations both now and in the future.
I wanted to move away from the idea that reading is "school work" and just for the classroom or homework. I wanted to communicate that literacy is about how we engage in our day-to-day lives. When we learn from each other, it becomes personally meaningful. This is when we can take those experiences and skills and transfer them to new and novel situations in our world.
My students gained many meaningful skills this year. They learned about new digital tools as well as new ways of interacting and communicating about books. I like to think that they will go out into the world and feel confident about themselves as readers, no matter what their level, and feel successful with texts because of their experiences with digital technologies. I hope they feel proud of what they discovered or produced using technology, and that they know that not all success hinges on writing an essay for a grade.
In the end it is truly wonderful to be able to work to change the dynamics of traditional literacy programs, create authentic tasks for students to engage in and share with new audiences. It is also wonderful for students to be able to think about literacy in ways they haven't before. When we embrace literacy as it integrates with 21st century skills and digital technologies, we are looking at transformative experiences.
Deborah McCallum is a member of the Simcoe County Teacher Local.