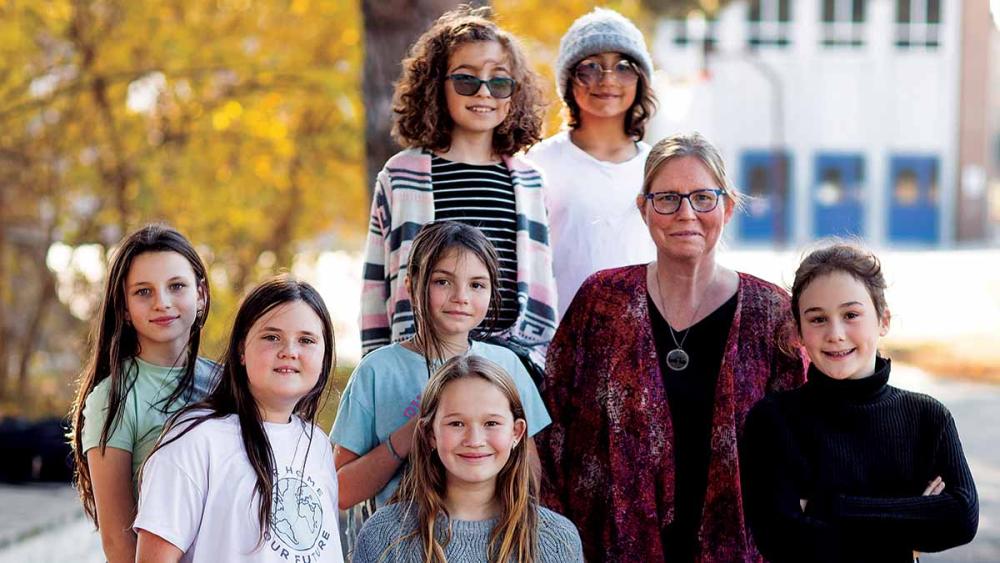 Photo by Christine Cousins
FEATURE
Girls, Activism and the Environment
Climate change is an issue of critical importance for everyone, but particularly for children. According to many scientists the world might only have eight years in which to significantly reduce our carbon dioxide emissions. Now is the time to be teaching this to younger students.
Any discussion with children about climate change should be both honest and optimistic. Part of the challenge is the overwhelming nature of this issue; it is a massive problem and not only are we not doing enough to create change, the messages from adults are often inconsistent. Children are dealing with a variety of challenges that contribute to anxiety and fear, from peer pressure to the war in Ukraine and more. In the last two years the mental health issues children are dealing with have largely been attributed to the pandemic; however, students often list other global issues, particularly climate change, as having a significant impact on their mental health.
Joan Baez is famously quoted as saying "action is the antidote to despair," and her words could not be more true today. My goal as an educator is to empower young people to become activists, to create change in their community and in the world and to use the Ontario curriculum to share this deep learning.
Several young women have led the world in the fight against climate change. They have defined what it means to be a climate activist. Greta Thunberg, Autumn Peltier, Milou Albrecht and more have spoken publicly and articulately to both people and politicians around the world. These dynamic leaders serve as role models for all students, but particularly girls and demonstrate that they can play a role in the fight against climate change. They stand for action.
Learning About Climate Change
I teach Grade 4 at Tecumseh Public School in Burlington, part of the Halton District School Board. Discussions around social justice, the environment and mental health are embedded in much of what I do.
Grade 4 has many entry points for discussing the environment, and I found my class to be particularly passionate about animals. The Science strand Habitats and Communities teaches children about food chains and webs and the direct impact human activity has on animals. In fact, Overall Expectation 1 is to "analyze the effects of human activities on habitats and communities." Rocks and Minerals includes mining which can be linked to how fossil fuels are extracted from the ground.
Many different curriculum areas provide opportunities to examine climate change. I used the book Can We Really Help the Polar Bears! by Katie Daynes to introduce the topic to my class. This book is a fantastic resource. It shares information about climate change from the perspective of polar bears. It is both honest and optimistic and provides many strategies for reducing our carbon footprint.
Throughout this unit, I use a variety of instructional strategies. A Think-Pair-Share strategy for discussions engages all learners and facilitates accountability. I read one or two pages of the book and then provide a topic for discussion that uses a reading strategy. For example, when learning about fossil fuels, I asked students what connections they can make to mining. Their first job is to think to themselves about this question, then pair with another student to discuss. Finally, I select a few of the groups to share with the class what they thought or learned. Students created a collaborative note in Google Drive so their ideas could be recorded for later writing work.
Knowledge Building Circles facilitate rich, accountable discussions. Students sit in a circle and the facilitator introduces a topic. After a student has shared their thoughts, they choose the next speaker, who has indicated interest by raising their hand. Prompts by the teacher (e.g. "What is the problem?" or, "Can you rephrase that?"), and student questions (e.g. "I still need to understand") contribute to a deeper conversation.
Girls and Climate Change – Greta Thunberg
We launched into the activist portion of the unit by learning about one of the most famous climate activists, Greta Thunberg. We read the book Greta and the Giants by Zoë Tucker, a fictionalized account of Greta's life and her role in the global climate movement. We discussed the various themes of the book and explored how Greta inspired others to stand with her against giants who had been cutting down forests and destroying habitats.
We then learned more about the real life story of Greta Thunberg and watched the video of her 2019 speech to the United Nations (available on YouTube).
Reading the story, and then "meeting" the real Greta, created a strong emotional connection for students. In a class discussion, students reflected on Greta's ideas, information and passion and incorporated learning about media texts (meeting Media Literacy expectation 1.3) by expressing their opinions about the issues presented, using evidence from the video to support their opinions.
My students were inspired by her bravery and passion. When I asked them who was angry at what has been done to the planet, they all raised their hands.
Water Protectors – Autumn Peltier
It was important to include an Indigenous perspective, both to understand the strong connection Indigenous Peoples have to the land and to learn about the impact a fossil-fuel-based economy has on the lives of Indigenous Peoples.
The entry point for this discussion was two separate read alouds. The first, We Are Water Protectors by Anishinaabe/Métis author Carole Lindstrom, is beautifully illustrated by Michaela Goade (of Tlingit descent). The book describes the impact of oil and gas pipelines on the land and water and shows how Indigenous Peoples have collaborated to stand up against the fossil fuel industry.
The second, Sila and the Land, is a very special book written by three Indigenous women; Shelby Angalik is Inuit, Ariana Roundpoint is Wolf Clan of the Kanyen'kehà:ka people and Lindsay DuPré is Métis. The book documents the journey of a young girl named Sila who travels from the north engaging in conversation with various animals and features of the landscape, discovering along the way that the water has been polluted. Sila learns that her actions have consequences, and what she does impacts others.
Listening and discussing these books met several expectations in Language Arts, as students listened carefully to understand the issues and ideas, and then discussed their thoughts and ideas about the books with each other (Oral and Visual Overall Expectations 1 and 2).
We then learned about Autumn Peltier, a young Anishinaabe woman and water rights activist from Wiikwemkoong First Nation on Manitoulin Island. Discussions about current issues facing Indigenous Peoples is an essential element of any activist work, and Autumn's story is inspiring.
Autumn Peltier was influenced by her great-aunt Josephine Mandamin, known as "Grandmother Water Walker." Mandamin was an Anishinaabe woman who organized a series of walks around the Great Lakes from 2003 to 2017, raising awareness about water pollution on the Great Lakes and the lack of fresh drinking water on Indigenous reserves.
We watched videos of Autumn speaking, including the CBC news report of her meeting and subsequently challenging Justin Trudeau. In 2016, at age 12, Autumn was presenting Trudeau with a gift, but spoke with him about how unhappy she was with the choices he had made and the broken promises to her people. We watched videos of Autumn speaking at the United Nations at ages 13 and 15 on World Water Day (available on YouTube).
My students were in awe of how articulate, knowledgeable and committed Autumn was. We discussed the qualities required to be a strong leader and how Autumn exemplified those by speaking so clearly to Trudeau.
As young women activists, Autumn and Greta have a tremendous influence on young people – and girls in particular – and on politicians. As educators, we should be aware that all the learning around climate change can be overwhelming and can lead to anxiety and depression, particularly during a time when some children are already fragile. Taking a stance and a lead is not only critical, it is empowering and can help mitigate anxiety about the climate crisis, as well as other environmental issues.
Writing to the Prime Minister (and Other Politicians)
These strong, brave young women are inspirational. We discussed how they had taken action, how they had communicated with people in power and how they had collaborated with others to create change.
I asked the class what we could do to communicate our concerns about the environment. I proposed that we all write a letter to the Prime Minister of Canada, the Premier of Ontario or the Mayor of Burlington.
This culminating assignment was one of the most authentic writing tasks I have ever taught. Because of the in-depth learning we had done about both climate change and the environment, the students were knowledgeable and able to delve into an area or topic they were particularly concerned about. The students also were extremely inspired by the leadership demonstrated by Autumn and Greta and were willing to take similar risks.
The letter writing also met many Language Arts expectations in the writing strand, addressing all four Overall Expectations. We used the writing process: brainstorming topics, organizing ideas, writing a draft and working together to develop an editing checklist. Students edited their letters together to ensure that conventions such as spelling and punctuation were correct and also revised them to make sure there was a main idea that arguments were connected to. Finally, they printed their letters and mailed them to Prime Minister Trudeau, Premier Ford or Mayor Meed Ward.
Honesty and Activism
As educators, we teach children the skills and knowledge they will need as adults. It is irresponsible not to teach them about climate change as it is going to have a huge impact on their lives – and on a scale we can't fully understand. Looking to the messages and leadership of Autumn Peltier and Greta Thunberg provides the world with hope. Empowering students to take action provides them with confidence and courage and supports their mental health. Embedding this all in the Ontario curriculum provides the time in a busy schedule for deep learning to occur.
Jennifer Reid is a member of Halton Teacher Local.