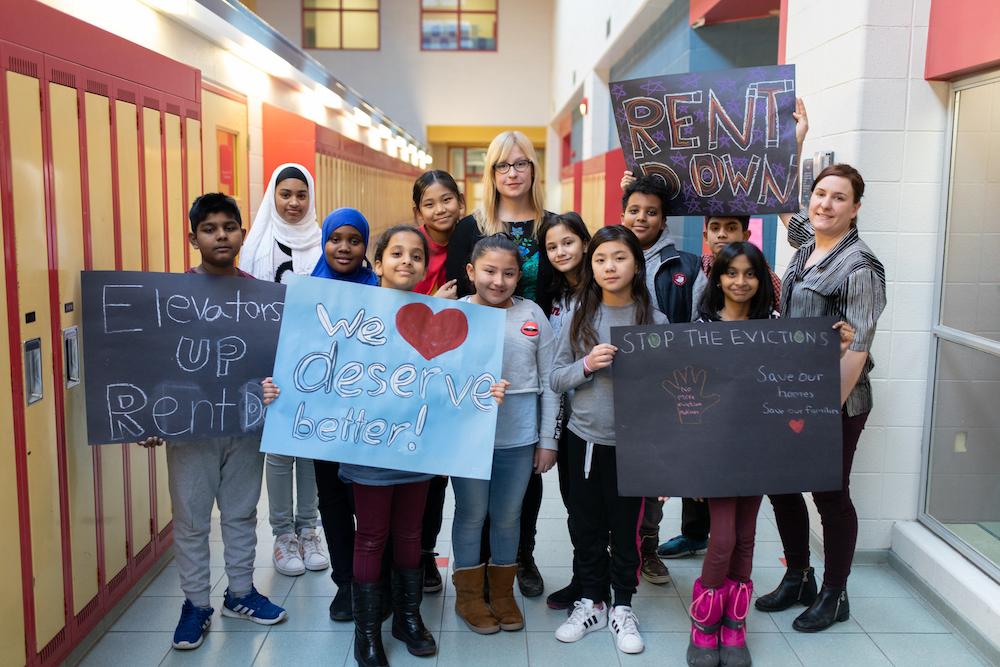 FEATURE
High-Rise Heroes: Lessons From Neighbourhood Struggles
A child's life pivots around their school and their home, their teachers and classmates and their family. I live and teach in the neighbourhood of Parkdale in southwest Toronto, a predominantly working-class neighbourhood where over 90 percent of inhabitants are renters. Like many of my students and their families, I leave my high-rise each morning and walk up a street lined with apartment buildings on my way to school.
A large number of my school community live in two buildings with over 700 units that sit directly across the street from our school. For students who live in the West Lodge towers, their school community and home community are intimately connected. The towers sit in a state of disrepair that is a topic of conversation in the school yard among both students and parents. Fires and floods are not uncommon. Nearly every day, groups of students wait for late slips because the elevators that service the 18 floors of their 350-unit building are not operational. Students often share their experience of getting stuck in one of the elevators.
Students' home lives are reflected in our classrooms. Teachers can tell when students have stayed up later than usual or when they are excited about the visit of a family member. We see when our students are itchy from bed bug bites or worried that their family might lose their home. We notice when students don't return to our school the following school year because they have been displaced from our neighbourhood by rent hikes or eviction.
Our students recognize the conditions of their lives. They know they often don't have hot water. They know their parents are afraid of rent increases. They know there has been a hole in their ceiling since the day they moved in. What they may not see as clearly is why this is the case. Why are they paying so much for so little?
From Sarnia to Rainy River, Toronto to Ottawa, working class Ontarians are struggling to find affordable and liveable housing. Just under 30 percent of Ontarians spend 30 percent or more of their income on housing. One in five Indigenous people in Canada live in housing in need of major repairs. The rental market has become an increasingly unfriendly place for Ontario families.
The Changing Rental Housing Market
The 1990s were a time marked by deregulation, social service cuts and the loss of rent control from vacant units. Around the same time, Canadian legislators made legal changes that allowed for the increased financialization of the rental housing market. These financialized landlords are different from the landlords who existed before. They are no longer families but, instead, a conglomeration of investors or funds who pool their capital to invest in real estate. To produce profits for their investors, these landlords are more likely to take on so-called risky investments. They purchase run-down apartment buildings and push massive renovations and the displacement of long-term tenants to substantially increase rents.
The towers that house many of the students who attend our school have recently been purchased by one of these conglomerates. It is the seventh largest landlord in the country. It has been in the news recently for engaging in a mass eviction in another community. Its purchase of several buildings in Parkdale has left many tenants feeling apprehensive. Will the conglomerate maximize profits at the expense of our homes? The towers are known not just for their disrepair, but also for having a larger number of two-bedroom apartments than can be found in other buildings in the neighbourhood. Losing these units will mean the loss of community, of families and of a critical part of our neighbourhood.
The provincial government has repealed Bill 148 and the increased minimum wage and announced a further weakening of rent controls and cuts to public services. There are real reasons to believe that the lives of many of our students and their families are going to get harder. In my neighbourhood, I have seen people confront conditions others might view as bleak and even inevitable with resolve and success by organizing together. Tenants in buildings across Parkdale have organized with their neighbours to bring their concerns about disrepair, evictions and disrespect directly to their landlords. In 2017, tenants in over 300 units in Parkdale withheld their rent in a successful rent strike when a landlord attempted to implement above-guideline rent increases.
Teaching About Housing Struggles
In classroom discussions, our choice of who we hold up as heroes and experts sends a message to our students about who is worthy of respect, whose opinions are valuable and who holds power in their lives. Often, stories of collective, working class resistance are wiped from history lessons in favour of discussions of individuals who hold positions of power or are seen to possess rare or unique intelligence or talent. The bias present in these discussions leads to an incomplete understanding of history and sends a subtle but clear message that working-class students and their families are not able to be changemakers in society. Competition and hierarchy are prioritized over teamwork and mutual benefit.
Some questions to consider:
When discussing politics, do I focus primarily on the words and actions of politicians?
When teaching students about creating change in society, do I emphasize the ability of working-class people to take collective action or speak only of lobbying more powerful individuals?
Do I value the contributions of working-class people in making our society run or do I focus primarily on business owners and "big names"?
Creating an Empowering Classroom
Use texts that reflect our students and their lives. Books like Those Shoes by Maribeth Boelts explore the difficulties families face as money struggles and social challenges intersect. Encourage students to support each other and to value character above all else. Help children to understand and appreciate the difficult decisions their families must make. Focus on the strength and ingenuity of working-class families.
Explore examples of working-class power rather than charity or sympathy. ¡Si, Se Puede! / Yes, We Can!: Janitor Strike in L.A. by Diana Cohn focuses on a boy named Carlitos and his mom who works as a night janitor. She explains to Carlitos that she can't make enough money to support him so she and her coworkers have decided to go on strike.
Empower students to act. Students are often supported in writing letters to powerful individuals or even to get petitions signed as a mechanism to enact change, but how often are students encouraged to take direct action? In The Streets are Free by Kurusa, we learn of the barrio (neighbourhood) of San Jose de la Urbina in Caracas, Venezuela where children have no park to play in. They protest and receive empty promises from the mayor that he will build them a park. In the end, they know that if they want their park they must take matters into their own hands. The children organize everyone in the barrio to create the space that they need and deserve.
Learn about the incredible science and engineering involved in making a city work. In How Cities Work, an engaging pop-up book by James Gulliver Hancock, students can learn about the knowledge and skills that go into designing, building and maintaining the cities and apartment buildings we live in. In my class, we extended this lesson with an integrated STEAM activity that had students draw to-scale apartment buildings on large rolls of paper and then find, label and draw their unit with their families inside. Students reflected on how beautiful it was that their lives were all connected.
Celebrate working-class heroes. In Marvelous Cornelius: Hurricane Katrina and the Spirit of New Orleans by Phil Bildner, we learn about a garbage collector who saw the streets as his calling. He took it upon himself to begin the clean-up in his neighbourhood after Hurricane Katrina and encouraged his neighbours to do so as well.
Create a school newspaper where students can research and write about neighbourhood issues.
Research and Local Heroes
Creating opportunities for students to research, discuss and write about housing issues allows them to develop a meaningful understanding of their living conditions, the challenges their families face and the power they hold. In working with a group of students to create a school newspaper, I began by asking what they thought were important issues in the neighbourhood. These students, who range from grade four to grade eight, immediately began to list their experiences as West Lodge tenants. They talked about fires, floods, carbon monoxide leaks and disrepair. They brought up pests, a lack of heat and chronically broken elevators. Many of them brought up having received N4s, also referred to as eviction notices.
They talked about having a new landlord and struggling to figure out what to think about it.
Like many West Lodge tenants, they wondered if this meant they would finally get the repairs they need. Does it mean their building will get working elevators? Will working elevators mean rent increases and evictions? I suggested we could do some research on the management company and their investment model to figure out what they tend to do when they purchase a building. A grade five student said she already knew about other properties in Ottawa where families' homes were going to be demolished.
Students asked if they should contact an expert for their opinion on what would happen to their homes. They wondered who would know what to do. In the end, they decided to interview other West Lodge tenants. One student, who attended a tenant organizing meeting with her mother, offered to write about her experience watching parents and teachers from the school participate in this meeting. Another student suggested we could talk about the rent strike and how other Parkdale tenants had succeeded against their landlord.
As we encourage the use of a variety of information sources, it is important we reach out to the people in our neighbourhoods and school communities with direct experience working on these issues. Our neighbours in Parkdale are experts when it comes to resisting displacement, understanding the economic forces behind disrepair and aboveguideline rent increases and, most importantly, successfully using collective strategies to defend their neighbourhood.
As teachers, we can build classroom communities where students are comfortable sharing their lives, are able to research social conditions that affect them and are empowered to take action. We can make sure we invite local heroes into our classrooms and schools, neighbours who have organized, taken on CEOs and corporate lawyers, and won. This will help our students understand the sacrifices and accomplishments of their own parents and the work involved in pushing back against the economic forces making their families' lives harder.
Homes and schools are the fulcrums on which entire communities pivot. The forces that leave my students' homes in disrepair or price their families out of our neighbourhood are the same forces that cut funding to and affect the quality of public education. As teachers, parents, students and their communities come to recognize these shared hardships, we can also come to recognize our shared interests in supporting each other as we work to improve our own and others' lives.
Ashleigh Doherty is a member of the Elementary Teachers of Toronto.