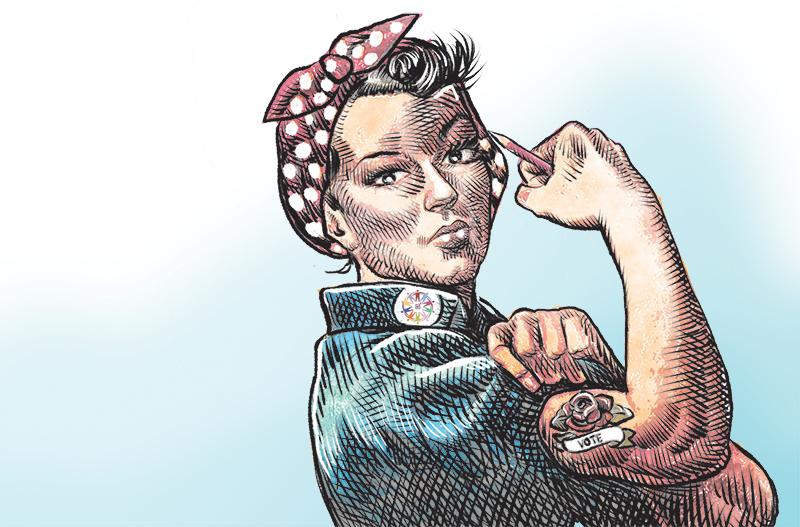 FEATURE
Impacting the 2018 Provincial Election Through Member Mobilizing
Ontarians go to the polls on June 7, 2018. In the upcoming provincial election campaign, ETFO's ability to have an impact on electing progressive candidates will depend largely on the extent to which members get involved. Under new election finance rules, unions can no longer make financial contributions to political parties or release members to work for candidates. The rules also severely limit the resources unions can allocate to public campaigns. These new rules dramatically change ETFO's ability to make a difference in the 2018 election. To have an impact, ETFO will be looking to its members to be active in a variety of ways.
ETFO's Historical Impact on Elections
ETFO's history of election involvement dates back to 1999, when we joined other unions to try to unseat the Progressive Conservative (PC) government lead by Mike Harris. That government's systematic attack on unions and public services motivated unions to ramp up their election involvement. The government had particularly targeted public education and teachers. It cut school board budgets, introduced a new prescriptive curriculum without providing resources or in-service, implemented the EQAO provincial testing program and undermined public confidence in teachers by campaigning on the need to introduce a teacher testing program.
The joint union election campaign wasn't successful in 1999, but the unions learned from the experience and implemented a more strategic approach for the 2003 campaign. In each successive election between 1999 and 2014, ETFO had a significant impact through a two-pronged strategy of sponsoring public campaigns that raised concerns about the negative effect of a PC government and releasing members to work on targeted Liberal and NDP campaigns. Other unions also provided campaign workers. Collectively, these unions contributed to the defeat of the PC government in 2003 and to preventing the Tories' return to office in subsequent elections during which the party continued to promote policies that undermined public education and unions.
ETFO's election involvement has contributed to political parties viewing education unions as a powerful interest group and recognizing the importance of addressing education issues to cultivate their members' support. The challenge for the upcoming election is to ensure that, regardless of the new election finance rules, ETFO can still make a difference with respect to who is elected and the issues that get attention during the campaign.
ETFO Members Can Make a Difference in the Election Outcome
To be successful electorally, political parties need both financial and human resources. With both unions and corporations now banned from making political contributions, political parties are largely reliant on individual contributions. Their only other source of funds is a per-vote subsidy based on the number of votes received in the previous provincial election. The subsidy falls far short of what the parties need to run campaigns and operate between elections.
Make a Financial Contribution
ETFO members can make a significant contribution to the electoral prospects of their preferred candidates by donating to a political party or candidate. The new election finance rules set annual contribution limits of $1,222 to three categories: candidates, provincial ridings and political parties. This means the annual individual contribution limit is $3,666 per provincial political party. While few ETFO members may feel they can afford to contribute up to the maximum level, any political donation will make a difference. The good news is that Ontario supports political contributions through a generous tax credit program; you will get most of your 2018 donations back when you file your 2018 tax return. The Ontario tax credit works as follows:
75 percent on the first $399 of donations;
50 percent on the portion of your donation between $399 and $1,330; and
33.33 percent on the portion between $1,330 and $3,026.
Sign Up as a Campaign Volunteer
There are many ways to support a candidate's campaign as a volunteer. Education workers are highly valued by political campaigns because of the skills they bring to any task. The skills most often associated with teachers and education workers include the ability to communicate effectively, superb organizational ability and strong writing and research skills. Teachers and education workers are also often involved in community organizations and bring important community profile and connections to the campaign.
Campaigns will ensure you find work that fits your skills, interests and the time you are able to commit. Key campaign roles include door-to-door and telephone canvassing as well as fundraising. If these jobs don't appeal to you, campaigns need people to do data entry work, draft campaign literature, organize canvassing kits and put up election signs. If you are social media savvy, or interested in technology or photography, campaigns also value these skills. The bottom line is there is work for anyone who volunteers.
The ultimate objective of any campaign is to identify supporters and get them to the polls on election day. If you don't have a lot of time to commit as a volunteer, you can still have a significant impact on election day. Campaigns need outside scrutineers, who go to the door of identified supporters and remind them to vote, and inside scrutineers, who monitor the voting in polling stations and ensure there are no irregularities with voting or when the ballots are counted. Campaigns also rely on volunteers to drive people to the polls. Elections are often won by a vote or two per poll, so the election day operation is vital to a successful campaign, especially in ridings where there is a close race.
Working on a campaign can be a lot of fun. You meet new people, learn how the political process works, develop a sense of belonging to an important cause and are appreciated for your skills and commitment. Campaigns value any amount of time you're able to give, whether it's a couple of hours now and then or a more extensive commitment. If you volunteer, you will have the satisfaction of knowing that you made an important contribution to the political process, regardless of whether your candidate wins. Of course, if your candidate is successful, that is the icing on the cake.
Contact Your Local Regarding Election Activites
Some ETFO locals will be endorsing candidates and mobilizing their members to support them. With ETFO provincial support, locals may release members to work on their election activities. This work may include contacting members to inform them of all-candidates' meetings, opportunities to support an endorsed candidate and the importance of voting. Locals may also plan to organize education forums during the pre-election or campaign periods. Your support is essential to the success of these events. Contact your local to find out what it plans for the election period.
Profile Education Issues
The new election finance rules place a limit on what organizations like ETFO can spend on public campaigns during both the six-month period prior to the election being called and the campaign period itself. ETFO will work within the new expenditure limits to promote issues related to the federation's Building Better Schools plan, profiled on buildingbetterschools. ca. The ETFO campaign will involve television and online advertising, lawn signs and social media communications. ETFO will survey the major political parties on education issues and share that information on buildingbetterschools.ca and through a special election newsletter distributed through a stewards' mailing in the spring.
ETFO members can play an important role in promoting education issues during the campaign by keeping informed about ETFO's Building Better Schools plan and the political party policies and platforms. When candidates come to your door, be sure to ask them about their party's policies on issues that matter to you. Talk to them about the challenges you may face in the classroom and what government action is needed to address them. Take the opportunity to attend an allcandidates' meeting in your riding and raise the profile of education issues by asking the candidates questions. Don't be shy about talking to your friends and neighbours about election issues; you can contribute to raising the profile of education issues by engaging others in conversation.
Exercise Your Right to Vote
The most important thing ETFO members can do is cast their vote on election day. Confirm you're on the Voters List, the registry of eligible voters maintained by Elections Ontario. You can do that online on the Elections Ontario website: elections.on.ca. If you've moved since June 2014, the date of last provincial election, you can update your personal information on the Voters List to ensure your name is on the polling list where you vote. Encourage your friends and family to do the same.
ETFO will be making every effort to raise the profile of important education issues during the election and to support the efforts of its locals to elect progressive candidates. ETFO members can have the most important impact on the election outcome. Your commitment to being involved will not only be a positive experience for you, but an important contribution to the health of Ontario electoral politics. Don't miss the opportunity to have an impact!
ETFO Member Election Checklist
Confirm you are on the Voters List and update your personal contact information, if applicable: elections.on.ca.
Check with your ETFO local to see if it is endorsing candidates.
Register your class for the Student Vote project during the election period: studentvote.ca.
Sign up as a campaign volunteer with a preferred candidate, making a time commitment that fits with your work and home responsibilities.
Donate to your preferred party and/ or candidate and qualify for the generous Ontario tax credit for political donations.
Keep informed about ETFO's Building Better Schools plan and the party platforms by checking ETFO's websites: etfo.ca and buildingbetterschools.ca.
Plan to attend an all-candidates' meeting in your riding and ask questions of the candidates to raise the profile of education issues and other issues of importance to you. Vote in an advance poll or on election day and remember to bring photo ID or two pieces of information with your address.
Vivian McCaffrey is a member of the ETFO executive staff.